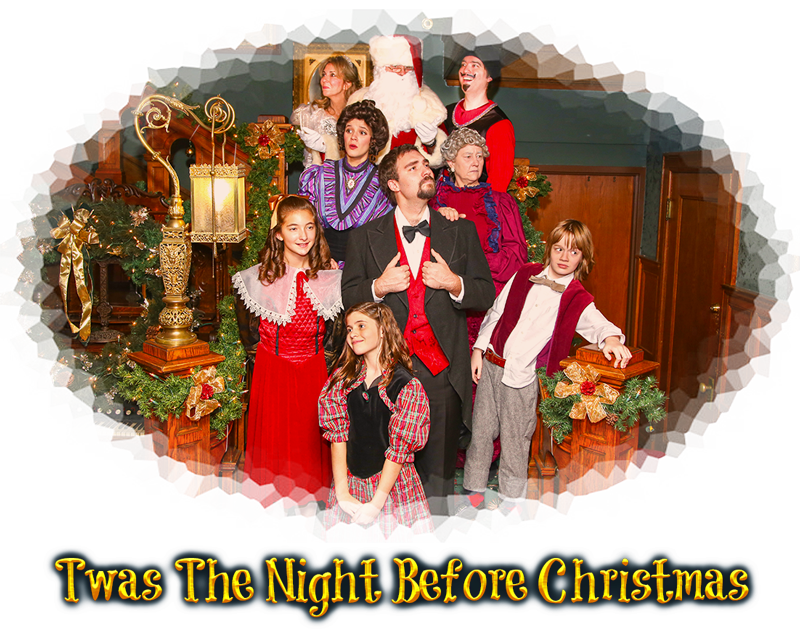 – Past Show
Based on a play by Michelle L. Vacca
Adapted and Directed by Tom Marks
Music and Lyrics by Margaret James
Dances Staged by Amie Losi
It's Christmas time and the Sheldon Family is getting ready for the big holiday. Young Virginia is the most excited of the children even though she's teased about her firm belief in Santa Claus by her older sister and brother. But then there's the eminent visit of Great Aunt Winifred! She's a damper to any holiday, but especially Christmas. When father is inspired to write a special story for young Virginia, could some Christmas Magic be on the way?
Donna Kummer as Aunt Winifred
Henry Hammond as Papa
Susie Duecker as Mama/Isabella
David Scott as Santa Claus
Chris Goode as Boris
Maddie Beeghly as Virginia
Isabella Lozier as Elizabeth/Miss Jane
Seth Hoffman as Timothy/Patches
Amie Losi as the Spirit of Christmas
All cast photos © and courtesy James Norris.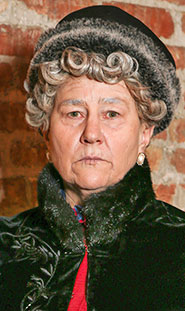 Donna Kummer is happy to finally release her true crotchety self on the stage after 20+ years of pretending to be Ms. Nice Guy behind the piano or holding the baton. She honed her wit sitting for hours in full view onstage pretending to be interested in inane dialogue while actually plotting her revenge. Should neither Broadway nor Hollywood be interested, she will undoubtedly return to her posts as Director of Music for Plymouth UCC and director of the Wauwatosa Community Band.
Donna Kummer
as Aunt Winifred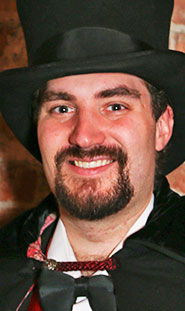 Henry is thrilled to make his debut with Milwaukee Entertainment Group. As a Milwaukee native and versatile performer, he has appeared with many local companies including Florentine Opera, Milwaukee Opera Theatre, In Tandem, Off the Wall, Theatre Unchained, Present Music, MacDowell Club, East Side Chamber Players & Opera on Tap Milwaukee, which he co-manages. He hopes this show's message of finding good in everyone (and the belief in Santa Claus too) resonates with audiences.
Henry Hammond
as Papa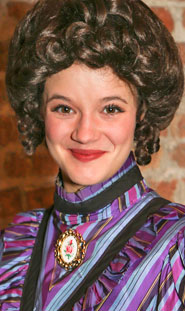 Susie Duecker has acted professionally in New York, New Jersey, and Wisconsin. She's performed with First Stage Theater, The Milwaukee Rep, Acacia Theater Company, Kohl's Wild Theater, and most recently, Renaissance Theatreworks in The Drowning Girls. She's also directed the fall play at Germantown High School for the past three years, and the recent Moon Over Buffalo has become her favorite. Susie teaches at First Stage as well.
Susie Duecker
as Mama/Isabella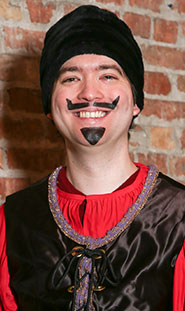 Chris is very happy to be performing in his first production with Milwaukee Entertainment Group. He has been having an awesome time performing with some of Milwaukee's great theatre companies during the past few years, including Acacia Theatre Company, Windfall Theatre, the Alchemist, Cabaret Milwaukee and Cooperative Performance Milwaukee, where he also serves on the board. Chris has also directed for Pink Banana, the Village Playhouse of Wauwatosa, and Acacia.
Chris Goode
as Boris
Maddie is thrilled to be making her professional theatrical debut with Milwaukee Entertainment Group. She has held many different roles in numerous Shorewood Drama Junior productions. She enjoys singing and playing the guitar and harmonica with blues bands throughout Milwaukee. She is a 7th grader at Shorewood Intermediate School. She has many hobbies including reading, running cross-country, drawing, writing songs and playing the piano by ear.
Maddie Beeghly
as Virginia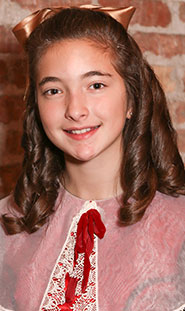 Isabella, age 13, lives in Shorewood and has previously appeared with First Stage in A Charlie Brown Christmas, Three Little Pigs, The Cat in the Hat and Gathering Blue. She also portrayed Marta in Skylight Music Theatre's The Sound of Music. Isabella plays violin in MYSO and loves soccer, musical theater, and classical singing.
Isabella Lozier
as Elizabeth/Miss Jane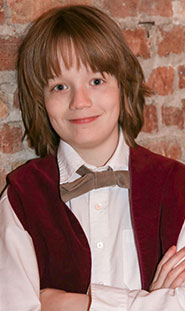 Seth recently played Johnny Steadman in A Laura Ingalls Wilder Christmas (Acacia Theatre) & Morten in An Enemy of the People (The Company of Strangers). Three of his favorite roles were Theodore Sutton in The Snow (First Stage), Linus in You're a Good Man, Charlie Brown (Eastbrook Academy), and Colin Craven in The Secret Garden (Soulstice). Next, Seth will return to Morning Star Productions appearing as Oliver in Yours, Mine, and His. Merry Christmas, Everyone!
Seth Hoffman
as Timothy/Patches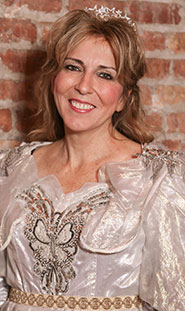 Reprising the role of Anna is a Christmas gift. Amie is especially grateful to Tom and the cast and crew. Amie has also been seen at the Boulevard, Bunny Gumbo, Chamber Theater, the Alchemist and Off the Wall as an actor and choreographer and she is a tour guide at Shakers Haunted Bar. She can't wait to spend the holidays with her 3 children and hopes you and your family have a very happy Holiday!
Amie Losi
as Spirit of Christmas
Performance Schedule
Opening Night, Closing Night, Performances:
Doors Open – 7pm | Curtain – 7:30pm
Matinee:
Doors Open – 1:30pm | Curtain – 2pm
| | | |
| --- | --- | --- |
| Day | Date | Notes |
| Friday | December 9 | Opening Night |
| Saturday | December 10 | Performance |
| Sunday | December 11 | Performance |
| Friday | December 16 | Performance* |
| Saturday | December 17 | Performance |
| Sunday | December 18 | Matinee |
| Monday | December 19 | (PWYC) Performance** |
| Thursday | December 22 | Performance |
| Friday | December 23 | Closing Night |
* No Intermission, Early Start Time Doors – 6:30pm | curtain 7pm
* * Monday December 19 Show Canceled Due to Cast Member Illness
For more information on this show,
or for other Live Entertainment events at the
Brumder Mansion, call Tom Marks at (414) 388-9104
---
MEG IS A PROUD MEMBER OF MTA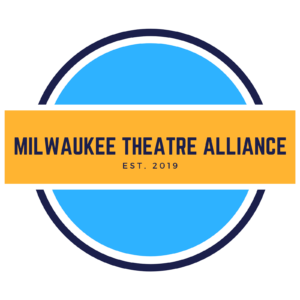 Sign up now to receive
your early notification of future
Milwaukee Entertainment Group events