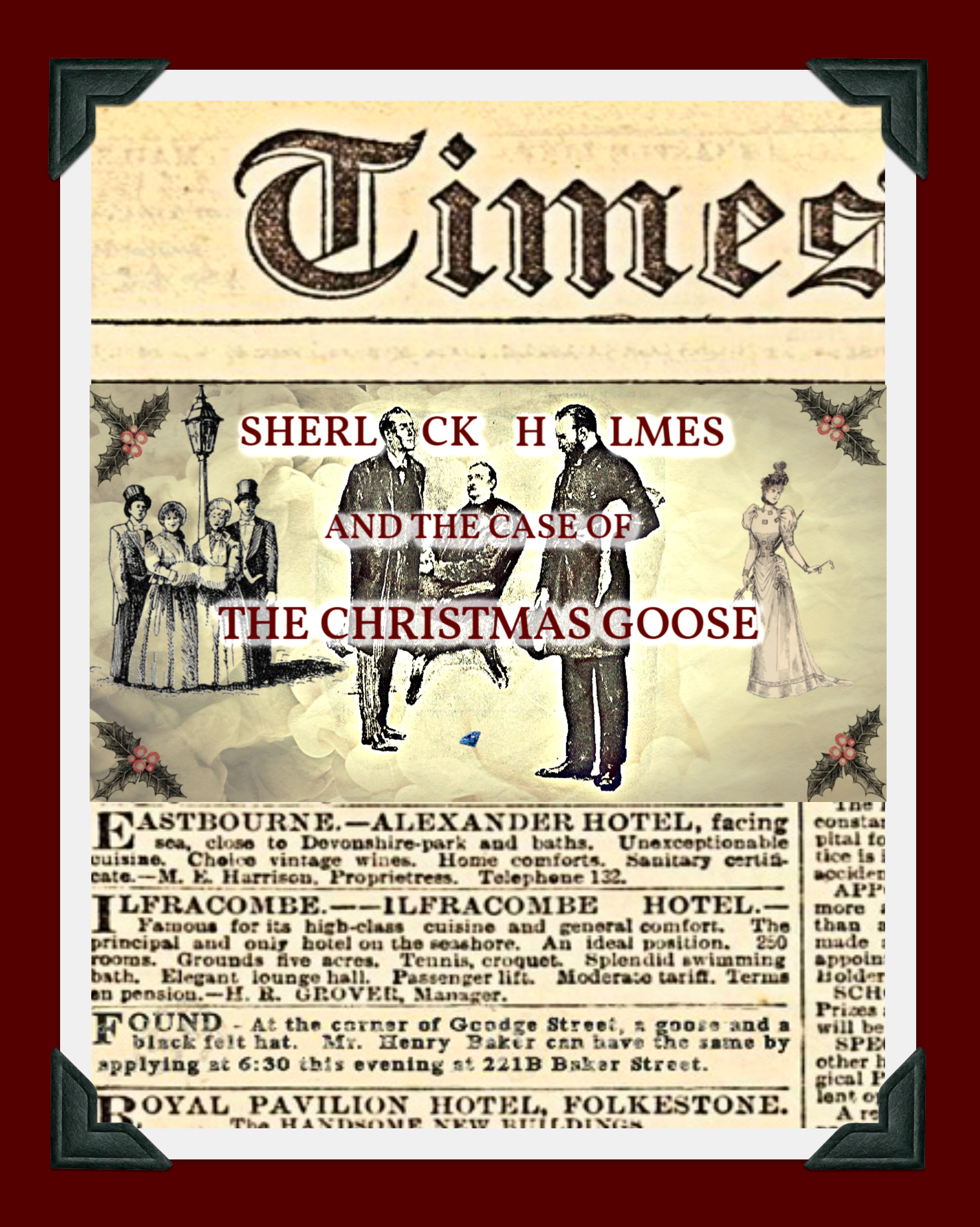 Sherlock Holmes And The Case Of The Christmas Goose
— Harry Cherkinian / Shepherd Express
— Marilyn Jozwik / Wisconsin Theatre Spotlight
— Kimberly Laberge / The Drama Den
adapted by Michael Menendian and John Weagly
Directed by Amanda J Hull
Vocal Direction by Matt Zembrowski
Dialect Coach Raeleen McMillion
Stage Manager Nicole Allee
Sherlock Holmes is tasked with discovering the identity of a mysterious man who has lost his hat and goose in a late-night scuffle in a seedy back alley of London on Christmas Eve, 1890. At first, Holmes treats the request as only a mild curiosity, but then, the countess of Morcar's rare and valuable missing blue carbuncle is found stuffed down the goose's throat! Accompanied by a troupe of mischievous Victorian Carolers who transform into the many irregular supporting characters in our story, the pursuit of the thief leads Holmes and Watson from
221B Baker Street to Covent Garden Market and all over the streets of wintery London.
Join us on this mysterious, family friendly, holiday adventure!
CAST OF CHARACTERS
Chris Goode as SHERLOCK HOLMES
Josh Scheibe as DR. JOHN WATSON
Gladys Chmiel as MRS. HUDSON/PLAYER
James P Iaquinta as MR. HENRY BAKER/PLAYER
Leslie Fitzwater as CAROLER/PLAYER
Jonathon Gideon as CAROLER/PLAYER
Dana Strothenke as CAROLER/PLAYER
Jake Konrath as CAROLER/PLAYER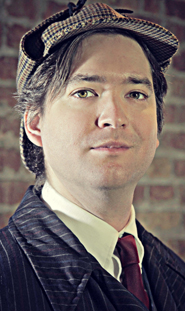 This is Chris' fourth production (and second Christmas show!) with Milwaukee Entertainment Group. Chris has previously appeared at the Brumder in 'Art' (Yvan); Twas the Night Before Christmas (Boris) and Not Dead Yet (E. Orr Block). He is so happy to be spending the holidays with MEG in a production brimming with seasonal cheer. Look for Chris next year in Figaro at Windfall Theatre followed by Bug with Outskirts Theatre Company. Chris also performs regularly on All In Productions podcast "WAIP": allin-mke.com/podcast Thanks to all for coming and Merry Christmas!
Chris Goode
as Sherlock Holmes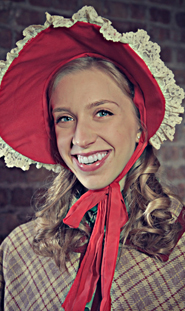 Dana is thrilled to make her MEG debut with this festive mystery! After attaining her BA in Comprehensive Theatre Arts from UW – Eau Claire, she has acted with Sunset Playhouse (A Murder is Announced, Song and Dance Man, Wanted: Fairy Godmother), St. Croix Festival Theatre (Shakespeare's Greatest Hits), and Cooperative Performance (Kaleidoscope). She's also had the pleasure of directing with Renaissance Theaterworks (Br!NK Br!efs – Focus). Her next projects include Assistant Directing with Forge Theater (Not Today) and Forte Theatre Company (Seussical Jr). Dana would like to thank her family and friends for their constant love and support.
Dana Leone
Strothenke
as Caroler/Catherine
Cusack/Mrs.Oakshott/
Player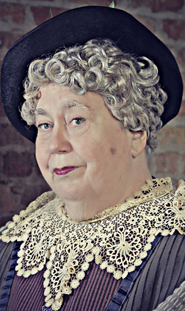 Gladys is thrilled to be back 'home' at the Brumder to live in the Sherlock world yet again! Alongside her other appearances here (Arsenic & Old Lace, The Baker Street Trilogy, and Love Letters), she has worked with Renaissance Theaterworks, First Stage Milwaukee, Mke Chamber Theatre, and many other venues in the Milwaukee Metro area. She has also been featured in industrials, commercials and film projects. Gladys was honored to receive a Lifetime Achievement Award in Theatre at the 2019 Footlights People's Choice Awards this past June. Additionally, the full version of her latest film, The Splinter Palace is now available on YouTube. Many thanks to Amanda and the entire cast and crew for this fun Christmas experience! As always, for Michael.
Gladys Chmiel
as Mrs. Hudson/
Mrs. Windigate/
Player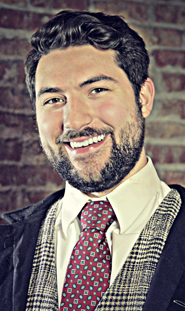 Jake is thrilled to be making his Milwaukee Entertainment Group debut. Jake, a graduate of UW-Stevens Point received a BA in Drama. He has appeared in a variety of productions throughout Milwaukee. Recent credits include Hand to God Voices Found Repertory. Renaissance Theaterworks Br!nk New Play Festival where he appeared in an original play Annie Jump and the Library of Heaven, which has since been produced and was a part of their 2019 season. Taking Shakespeare at Boulevard Theatre. Next up he will appear in The Beauty of the Psyche here at MEG. He thanks his girlfriend Maddie for all her love and support.
Jake Konrath
as Caroler/James Ryder/
Player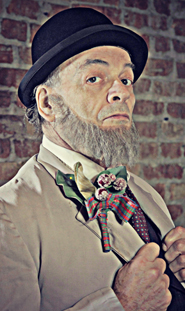 Jim is happy to rejoin the Brumder crew of talented thespians in a show featuring some of his favorite fictional characters. He thanks all who have been sending positive thoughts and prayers his way – they've been working. He's been enjoying being the Progressive Christian of BlogTalkRadio.com/theliberalredneck every Friday from noon to 2pm. Listen to the archive at Face Book's The Liberal Redneck or live and call in with your comments. Blessed and happy holidays to one and all.
James P Iaquinta
as Mr. Henry Baker/
Judge Bradstreet/
Player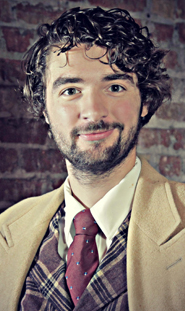 Jonathon holds a BA in music with a theatre minor from Concordia University Wisconsin. He was last seen as Princeton in Glass Slipper with Renaissance Theaterworks as part of the Br!nk Br!efs. Jonathon is a company member at Kohls Wild Theater and a game show host at Game Show Battle Rooms Milwaukee. In addition to acting, Jonathon works as a music director and composer.
Jonathon Gideon
as Caroler/Peterson/
John Horner/Player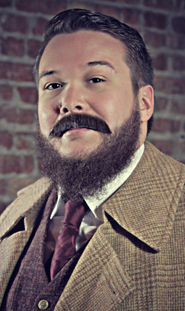 Josh is a Milwaukee based actor and playwright. He is very happy to return to the Brumder after turns as Sebastian in MEG's aMUSEd and Wilde Flack in Windfall Theatre's Dancing with Hamlet. Other previous roles include Sherlock Holmes (The Hound of the Baskervilles, The World's Stage Theatre Company), Orson Welles/Pierson/Narrator (The War of the Worlds, Kettle Moraine Playhouse), Valentine Brown (Quality Street, Acacia Theatre), Stanton Presley (The First Church of Texaco, Morning Star Productions), Friar Lawrence (Romeo & Juliet, SummerStage of Delafield), Robert Lambert (Boeing Boeing, Sunset Playhouse), and many others.
Josh Scheibe
as Dr. John Watson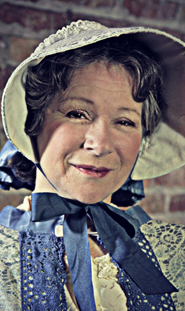 Leslie Fitzwater has been acting and singing professionally for nearly 40 years. Her career spans opera, theater, music theater, cabaret, and mime, and her roles have been as diverse as Paddington Bear and Carmen. While Leslie has played her share of well-known characters such as Desiree (A LITTLE NIGHT MUSIC), Golda (FIDDLER ON THE ROOF), Agnes (I DO, I DO) and Marmie (LITTLE WOMEN), she is best known for her portrayal of the French chanteuse, Edith Piaf, in her one woman show, EDITH PIAF ONSTAGE. Leslie is an adjunct voice faculty member at Pius XI High School.
Leslie Fitzwater
as Caroler/
Mrs. Breckinridge/
Player
Performance Schedule
Opening Night, Closing Night, Performances:
Doors Open – 7pm | Curtain – 7:30pm
Doors Open – 3:30pm | Curtain – 4pm
Matinee:
Doors Open – 1:30pm | Curtain – 2pm
| | | |
| --- | --- | --- |
| Day | Date | Notes |
| Friday | December 6 | Opening Night |
| Saturday | December 7 | Performance |
| Friday | December 13 | Performance |
| Saturday | December 14 | Performance |
| Sunday | December 15 | SOLD OUT! |
| Thursday | December 19 | Performance |
| Friday | December 20 | SOLD OUT! |
| Saturday | December 21 | Performance – 4pm |
| Saturday | December 21 | SOLD OUT! – 7:30pm |
For more information on this show,
or for other Live Entertainment events at the
Brumder Mansion, call Tom Marks at (414) 388-9104
---
MEG IS A PROUD MEMBER OF MTA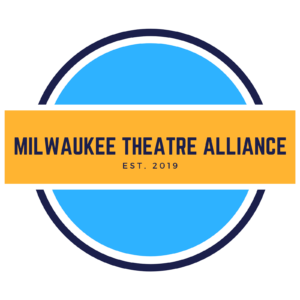 Sign up now to receive
your early notification of future
Milwaukee Entertainment Group events