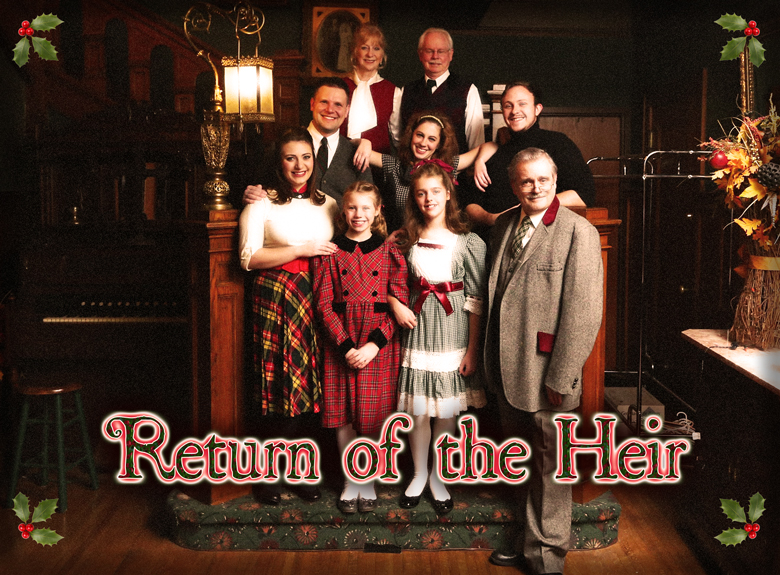 Return of the Heir – Past Show
— Julie McHale / GMToday
Written and Directed by Amanda J. Hull
In the Scottish Highlands of the 1960s, at the Estate of the Laird MacKenzie and his noble family, the town has gathered for a Christmas Party to welcome home Alfie — the son and heir of the MacKenzies. An ancient lovers' quarrel, unexpected revelations, music, treats, and good old fashioned Holiday fun await you.
Mark Flagg as Harold MacKenzie
Margaret Casey as Marjorie MacKenzie
Phil Stepanski as Alfie MacKenzie
April Paul as Dee MacKenzie
Cory Jefferson Hagen as Dudley MacHugh
Haley San Fillippo as Molly Bradley
Marie Arndorfer as Dotty Fitzsimmons *
Sophia Diliberti as Dotty Fitzsimmons *
Tom Marks as Walter Bradley
All cast photos © and courtesy James Norris.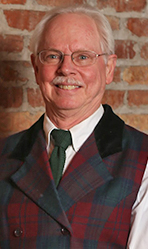 Mark Flagg is honored to play a role in this original production with such a talented cast. For over 25 years, Mark has acted in, directed, and produced full productions and enhanced Reader's Theatre for schools and for Soulstice Theatre. Highlights have been Wisconsin premiere performances of Anna in the Tropics, The Book Club Play, and New Jerusalem, and rewarding productions of Polish Joke, Over the River and Into the Woods, and Lunch Hour. Many thanks and deep respect to Amanda Hull for her energy, commitment, and superb organization.
Mark Flagg
as Harold MacKenzie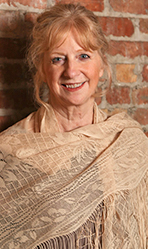 Lady Marjorie marks Margaret's first role with The Milwaukee Entertainment Group. In recent years she has performed with Milwaukee Irish Arts, Soulstice Theatre (M'Lynn in Steel Magnolias, Gertrude in 33 Variations), Boulevard Ensemble (Lady Bracknell in The Importance of Being Earnest) Carte Blanche (Mrs. Richards in Fawlty Towers), and in the ensembles of King Lear at The Alchemist and Winter's Tale with Optimist Theatre. Many thanks to Amanda and MEG for including me in this delightful holiday production! Fun Fact: Margaret has a son-in-law from Scotland!
Margaret Casey
as Marjorie MacKenzie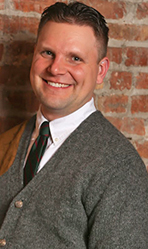 Phil would like to thank Amanda for the opportunity to perform in a THIRD original play with MEG this season, having already played Ryan in aM– USEd, and the title character Jake in Jake Revolver: Freelance Secret Agent. He is honored to have had a part in bringing all of these fabulous works to life!! Phil has numerous recent theatre credits, including performances with Soulstice Theatre, SummerStage of Delafield, and Waukesha Civic. Next up is New York, a powerful play about the emotions of 9/11, opening in January with the Off-Book Players at Inspiration Studios in Wauwatosa.
Phil Stepanski
as Alfie MacKenzie
April is delighted to be making her Milwaukee Entertainment Group debut here at the Brumder Mansion. Previously, she has worked with companies such as Milwaukee Chamber Theatre, The Alchemist Theater, Soulstice Theatre, Bunny Gumbo, and the late Uprooted and Youngblood Theatre Companies. April holds an Acting degree from UW-Milwaukee, and when there is free-time between shows and various day jobs, she loves to pick up a paint brush and create more art. Next up, April can be seen at Forward Theater in Madison with Annie Baker's 2014 Pulitzer Prize winning drama, The Flick.
April Paul
as Dee MacKenzie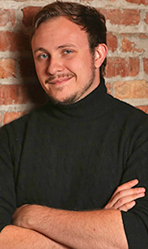 Mr. Hagen is a graduate of the University of Wisconsin –Whitewater with a Bachelor of Fine Arts. His recent stage credits include Lawrence Barrett in The Seeds of Banquo, Jack in Death by Design, W. Rabbit in Hatter Madness, Will Scarlett in A Lady in Waiting, Romeo in Romeo and Juliet, and Dracula in Dracula. Mr. Hagen is thrilled to return to Milwaukee Entertainment Group and the Brumder Mansion.
Cory Jefferson Hagen
as Dudley MacHugh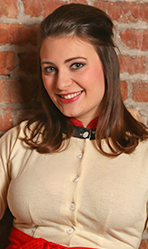 Hayley holds a BFA in Theatre Performance from UW-Whitewater, and has been part of the Milwaukee theatre scene for the past few years. She is thrilled that Return of the Heir will be her first production with The Milwaukee Entertainment Group. She was seen most recently in The Rocky Horror Show at The Alchemist Theatre, as well as in Little Shop of Horrors with All In Productions. Earlier this year, she was in Close to Home: a Musical X-File, Rent, and Bare. She wishes a happy holiday season to all!
Haley San Fillippo
as Molly Bradley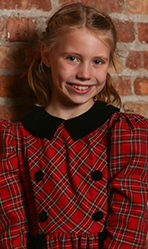 Marie is thrilled to be making her professional acting debut in Return of the Heir. She recently played the role of Duffy in Annie Kids with Shorewood Drama Junior. Marie is a fourth grader at Atwater Elementary School in Shorewood. She enjoys singing, swimming and gymnastics, and plays the piano and the trumpet. She is dedicating this performance to her family!
Marie Arndorfer
as Dotty Fitzsimmons *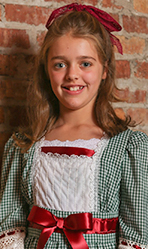 Sophie (age 11) is honored and delighted to be a part of this show! Her previous stage credits were both Shorewood Drama Junior productions: she had a blast playing Molly in Annie Kids and various characters in A Celebration of Oz. In addition to her newfound interest in theater, she has many other hobbies including reading (a ton), Irish dance, violin, piano, soccer, and playing with her dog, Chester. She would like to thank her amazing family and everyone involved in the play for supporting her and giving her this exciting opportunity.
Sophia Diliberti
as Dotty Fitzsimmons *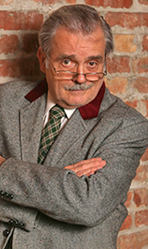 Tom was first "on-stage" as a "professional actor" in 1957, and so far he's been able to enjoy (and endure) all that one encounters in an 'actor's life'. He learned to adjust to not always being "on-stage" by taking on such roles as that of prop master, sound technician, set designer/decorator, stage manager, director, writer and producer. Tom recently returned to performing in musical theatre in Sunset Playhouse's "How To Succeed…" and will soon be seen in Jeff Ircink's "Stan's Addiction".
Tom Marks
as Walter Bradley
Performance Schedule
Opening Night, Closing Night, Performances:
Doors Open – 7pm | Curtain – 7:30pm
Matinee:
Doors Open – 1:30pm | Curtain – 2pm
| | | |
| --- | --- | --- |
| Day | Date | Notes |
| Friday | November 27 | Opening Night |
| Saturday | November 28 | Performance |
| Friday | December 4 | Performance |
| Saturday | December 5 | Performance |
| Thursday | December 10 | Performance |
| Friday | December 11 | Performance |
| Saturday | December 12 | Performance |
| Sunday | December 13 | Matinee |
| Friday | December 18 | Performance |
| Saturday | December 19 | Performance |
| Sunday | December 20 | Closing Matinee |
For more information on this show,
or for other Live Entertainment events at the
Brumder Mansion, call Tom Marks at (414) 388-9104
---
MEG IS A PROUD MEMBER OF MTA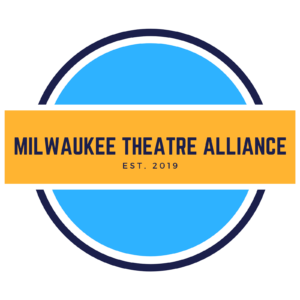 Sign up now to receive
your early notification of future
Milwaukee Entertainment Group events