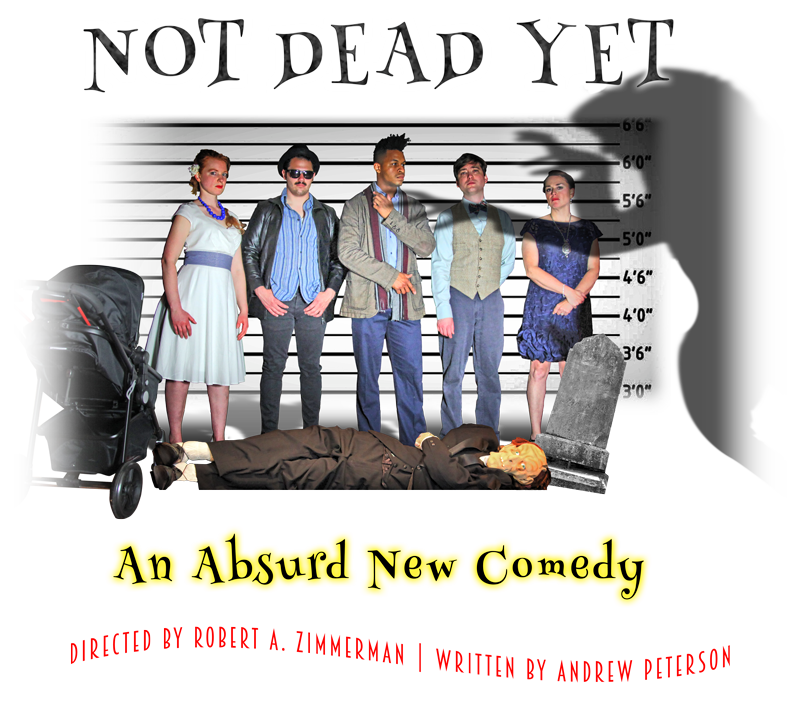 Not Dead Yet
— Russ Bickerstaff / The Small Stage
— Jean-Gabriel Fernandez
— Marilyn Jozqik / Wisconsin Theater Spotlight
— Kimberly Laberge / The Drama Den
Written by Andrew Peterson • Directed by Robert A Zimmerman
Join us in witnessing the disastrously unsuccessful efforts of a buffoonish, egocentric director to stage a murder-mystery play at the Brumder Mansion. It is quirky, dark and absurd. We'd tell you ahead of time the name of the famous director who's coming to The Brumder Mansion – but we'd have to kill you. Trust us – you've heard of him. You've stood in line to see his movies. You've seen them on Netflix… Some of you have probably even pirated them on the torrents (don't worry – we won't tell). And now he's coming here. To Milwaukee. To take you behind the scenes of his next artistic sensation: Not Dead Yet. Don't miss it.
If you see only ONE absurd murder-mystery play at the Brumder Mansion this June, see NOT DEAD YET.
Zach Sharrock as ADOLF EBOLA
Amber Regan as BERNICE IS-NOT-MY-NAME
Dennis Lewis as CAMERON JAMES PINEHURST III
Chris Goode as E. ORR BLOCK
Cara Johnston as GINGER KATZ
Brittany Curran as SUZIE DITZ
Rip Butler as RIP BUTLER
Stone C. Arajohn as TWEETS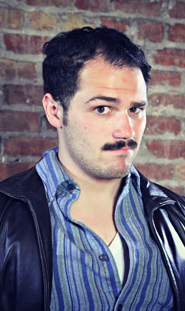 Zach is thrilled to be part of the cast of Not Dead Yet. He is a graduate of the Kettle Moraine School of Performance Arts and has completed courses at both the Milwaukee Repertory Theater and Comedy Sportz. He has played an active part of the Milwaukee theater scene for several years now, appearing in shows at the Lake County Playhouse, Inspiration Studio, and Summerstage.
Zach Sharrock
as ADOLF EBOLA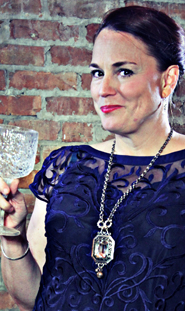 Amber is excited to work on her first production at the Brumder Mansion. Mother of four kids, whose names all start with D, Amber is usually busy driving people places and finding things for others but loves when she finds an opportunity to work in theatre. She appreciates her family's support and excitement surrounding her work. She has recently been seen working with Bard and Bourbon in their productions of Julius Caesar, Richard III and The Merry Wives of Windsor. She has also worked at Sunset Playhouse and Soulstice Theatre. A big thank you to her husband for all of his love and support.
Amber Regan
as BERNICE
IS-NOT-MY-NAME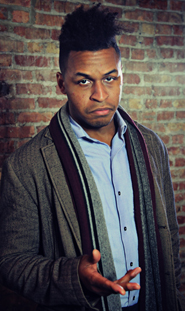 Dennis was born and raised in Milwaukee, Wisconsin and is thrilled to contribute to its varied and skilled theatre scene. He has had the fantastic opportunities to work with theatre companies in the area such as Lemonade Theater Productions, Acacia Theatre and Cooperative Performance. When not rehearsing or performing, Dennis can be found singing karaoke wherever he can find it and serving his community as a firefighter in downtown Milwaukee.
Dennis Lewis
as CAMERON JAMES
PINEHURST III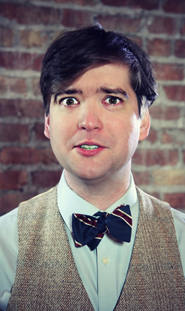 Chris is grateful to be returning to the MEG stage for the third time, following Twas the Night Before Christmas (Boris) in 2016 and Art (Yvan) in 2017. Favorite recent Milwaukee credits include Antony Wilding in Enchanted April at Windfall Theatre, Danny Shapiro in Sexual Perversity in Chicago at Alchemist Theatre (RIP), and Fireclown Ensemble in Celsius 232 with Quasimondo and Cooperative Performance. Look for Chris next in The Comedy of Romeo and Juliet…Kinda Sorta with Schmitz n' Giggles and Alabama Story with Seat Of Our Pants Readers Theatre. Thanks to everyone for coming out to see such a delightfully absurd piece of original work!
Chris Goode
as E. ORR BLOCK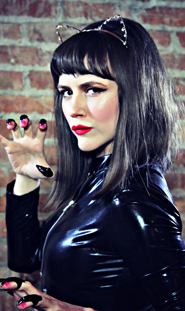 Cara happily returns to the MEG stage after playing Dorothy Parker in Little Wars. Originally from Dallas, Texas, Cara relocated to Milwaukee with her husband, Dustin, and her pet rabbit, Ozma. Selected credits : The Violet Hour at Renaissance Theatreworks, Quality Street at Acacia, Becky's New Car at Forge, Agnes of God, Beoing Beoing, Bus Stop at River City Repertory Theatre in Shreveport, Louisiana. All my love to Ozma!
Cara Johnston
as GINGER KATZ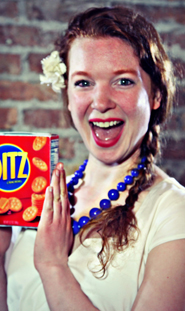 Brittany Curran is a company member and playwright at Kohl's Wild Theater, works as a TA for the theatre department at UWM, and is a 200-hour Certified Yoga Teacher. Recently at the mansion, Brittany played Lydia and was the Assistant Director for MEG's production of Spike Heels. She has worked with numerous local theatre companies including Summit Players, Bard and Bourbon, Theater RED, Pink Banana, Renaissance Theaterworks, The World's Stage, Milwaukee Metropolitan Voices, First Stage, Milwaukee Rep, and Optimist Theatre. Brittany would like to thank her mom and dad for their unfaltering love and support.
Brittany Curran
as SUZIE DITZ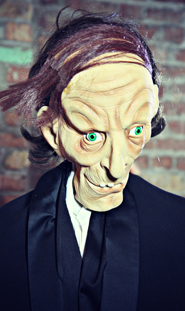 Rip Butler is pleased and thrilled to be making his stage debut at The Brumder Mansion. Ever since his birth in a Vietnamese sweatshop he has dreamed of theatre footlights and the stage. At a young age he stowed away in a container ship, braving violent storms in the Pacific and corrupt customs officials so that he could be enthusiastically flopped around by total strangers and make them giggle and smile. Now that he's poised on the brink of stardom, he asks only that Brittany not bite his toes anymore, and that Dennis not manhandle his legs quite so much. Finally, he hopes that he serves as an inspiration to floppy manservants everywhere.
Rip Butler
as RIP BUTLER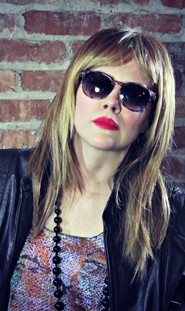 This chick has been around, dude. Born in the Bronx, Stone Cold Arajohn, the daughter of a traveling abacus salesman, spent her formative years in Manchester, England, on a small farm studying agriculture and music as a member of an isolated hippie commune. After sneaking out to the public library to use the internet for the very first time, she met her partner Adolf on Twitter. He told her to run away and meet him in St. Louis where they then traveled together to make it very small in L.A. and then hitchhiked to Milwaukee for this table read.
Stone C. Arajohn
as TWEETS
Performance Schedule
Opening Night, Closing Night, Performances:
Doors Open – 7pm | Curtain – 7:30pm
Matinee:
Doors Open – 1:30pm | Curtain – 2pm
| | | |
| --- | --- | --- |
| Day | Date | Notes |
| Friday | June 7 | Opening Night |
| Saturday | June 8 | Performance |
| Friday | June 14 | Performance |
| Saturday | June 15 | Performance |
| Sunday | June 16 | Matinee |
| Monday | June 17 | PWYC Performance |
| Thursday | June 20 | Performance |
| Friday | June 21 | Performance |
| Saturday | June 22 | Closing Night |
For more information on this show,
or for other Live Entertainment events at the
Brumder Mansion, call Tom Marks at (414) 388-9104
---
MEG IS A PROUD MEMBER OF MTA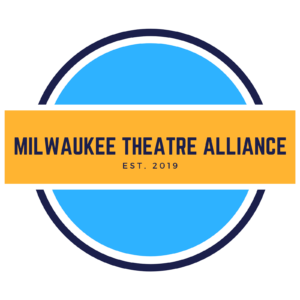 Sign up now to receive
your early notification of future
Milwaukee Entertainment Group events