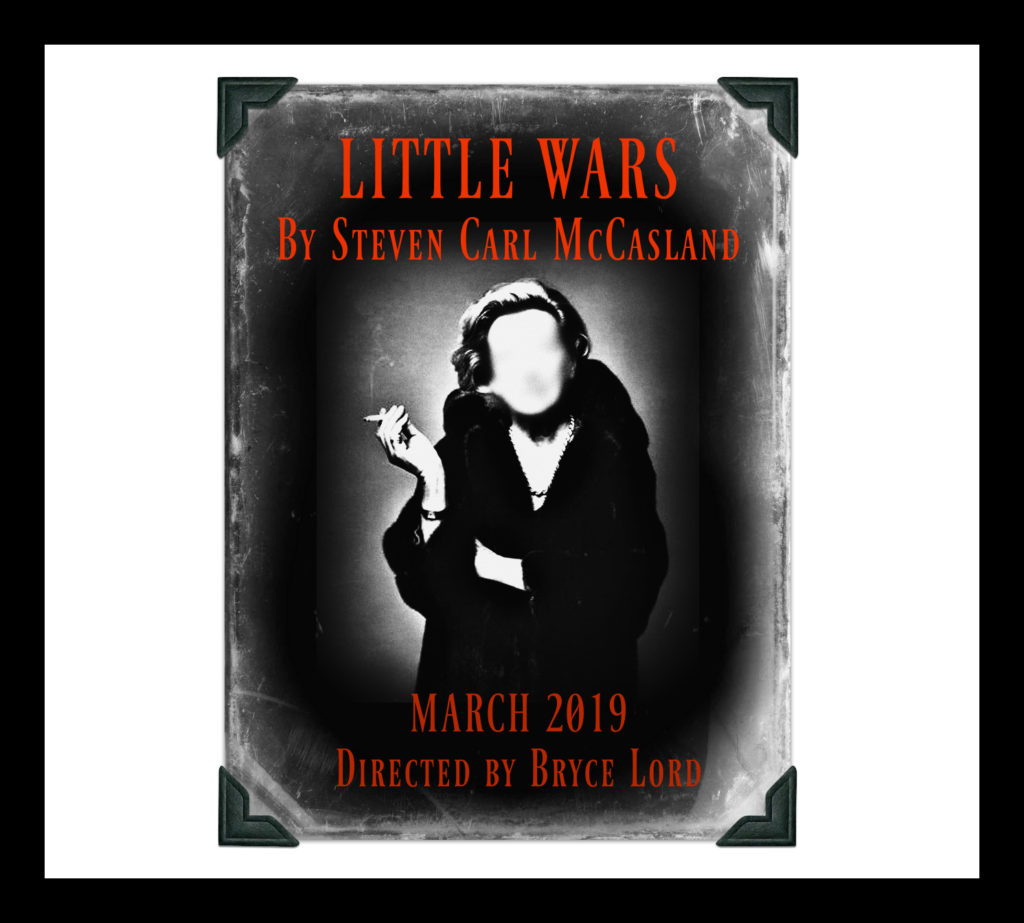 Little Wars
— Russ Bickerstaff / The Small Stage
— Jean-Gabriel Fernandez / Shepherd Express
— Kimberly Laberge / The Drama Den
Written by Steven Carl Mccasland • Directed by Bryce Lord
In 1980, Mary McCarthy told Dick Cavett that "everything Lillian Hellman says is a lie, including 'and' and 'the'." She also claimed to know a woman who could prove it. And with those words, a legendary literary feud began. In Little Wars, it's France, 1940. Tensions are high. The booze is flowing. War is coming. Inspired by one of the literary world's most famous scandals, Steven Carl McCasland's LITTLE WARS features Lillian Hellman, Dorothy Parker, Gertrude Stein, Agatha Christie, Alice B. Toklas and Muriel Gardiner having the best what-if dinner party imaginable. Together they'll drink, scoff and face their demons. Everyone has a confession. Someone has a secret.
"Have you ever dreamed of attending one of Gertrude Stein's infamous salons?… Little Wars…is about as close as you can get. I can't recall the last time I saw so many incredible personalities portrayed on stage, let alone in a cast entirely of women." – After Ellen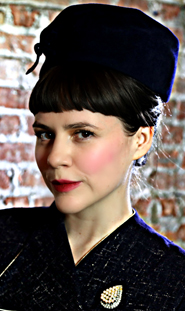 Cara is grateful to MEG for the opportunity to play the inimitable Dorothy Parker. Originally from Dallas, Texas, Cara relocated to Milwaukee with her husband, Dustin, and her pet rabbit, Ozma. Selected credits : The Violet Hour at Renaissance Theatreworks, Quality Street at Acacia Theatre, Becky's New Car at Forge Theatre, Agnes of God, Boeing Boeing, Bus Stop at River City Repertory Theatre in Shreveport, Louisiana. All my love to Ozma!
Cara Johnston
as Dorothy Parker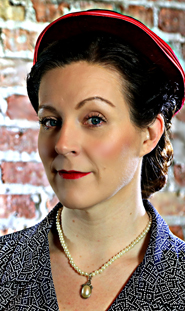 Carrie is making her Milwaukee Entertainment Group debut with Little Wars. She lives with her family in Wauwatosa, and has performed with many Milwaukee area theatre companies, including Skylight Music Theatre, First Stage Children's Theatre, Milwaukee Opera Theatre, All In Productions, Sunset Playhouse, and Greendale Community Theatre. Favorite past roles include The Baker's Wife in Into the Woods at Sunset Playhouse, and Diana in Next to Normal with All In Productions.
Carrie Gray
as Lillian Hellman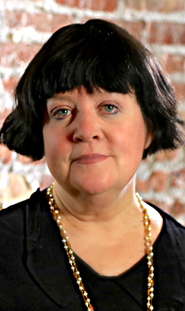 Donna, last seen onstage at SummerStage of Delafield as Mrs. Bennet in Pride and Prejudice, is happy to return to the Brumder stage making her MEG Debut in the role of Alice! Donna's acting credits include Rosie in Dancing With Hamlet with Windfall Theatre here at the Brumder Mansion, Lady Capulet in Romeo and Juliet with SummerStage of Delafield, and Penny in You Can't Take It With You at Sunset Playhouse.
Donna Daniels
as Alice B Toklas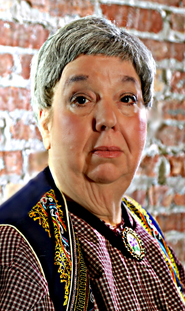 Maggie's roles include Ouiser in Steel Magnolias & Ethel in Moon Over Buffalo at Sunset Playhouse, Jeanette in The Full Monty at the Sandbox Theatre NYC, Mona in The Best Little Whorehouse in Texas with The Ring Theatre NYC. Maggie was last seen as the Grandmother in Waukesha Civic Theatre's production of Billy Elliot. She was also in the original reading of Little Wars and helped to workshop the piece from table to stage. She performed as Gertrude Stein at Beautiful Soup Theatre in NYC. Thanks to friends, Family and all who put up with me…from New York to Milwaukee, I love you!
Maggie Wirth
as Gertrude Stein
Molly is excited to be working with MEG for the first time and this wonderful ensemble! Molly is an actor, producer, dancer and educator. Molly was recently seen in the two Cooperative Performances last year, Coriolana and Celsius 232. Molly is a proud graduate of the University of Minnesota, Twin Cities where she received a Bachelor of Arts in Theatre Performance and Cultural Studies and Comparative Literature. Molly has performed regionally in Milwaukee, Minneapolis and Chicago over the last 15 years. Thank you for supporting live theatre.
Molly Corkins
as Bernadette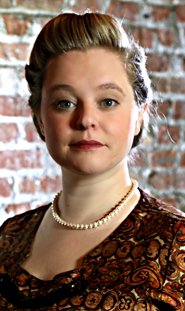 Ruth is another first-timer with the Milwaukee Entertainment Group, and she is loving every golden minute with this amazing production team! It's been her joy to bring some truly incredible characters to life over the years; stepping into the shoes of a real-life heroine like Muriel Gardiner has been a particular performance treat. Cherished past roles include Becca in Rabbit Hole, Sally Talley in Talley's Folly, Clara in 33 Variations, Tracy Lord in The Philadelphia Story, and Meg in Crimes of the Heart. She would like to thank her loved ones – near and far – who never fail in their encouragement and support.
Ruth Arnell
as Muriel Gardiner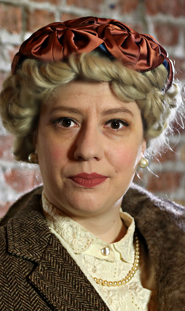 Victoria is delighted to join a powerful cast of women and honored with the opportunity to work with Bryce Lord after more than a decade. Notable performances include Bliss: Or Emily Post is Dead with Renaissance Theaterworks (Clementine); Rabbit Hole (Izzy), Betrayal (Emma), and Boeing Boeing (Gretchen) with Sunset Playhouse; Pride and Prejudice (Elizabeth), Tartuffe (Dorine), and Much Ado About Nothing (Beatrice) with Summerstage of Delafield. She would like to thank her family for their encouragement in all her theater endeavors and Jason for his unflinching support.
Victoria Hudziak
as Agatha Christie
Performance Schedule
Opening Night, Closing Night, Performances:
Doors Open – 7pm | Curtain – 7:30pm
Matinee:
Doors Open – 1:30pm | Curtain – 2pm
| | | |
| --- | --- | --- |
| Day | Date | Notes |
| Friday | March 22 | Opening Night |
| Saturday | March 23 | Performance |
| Sunday | March 24 | Matinee |
| Friday | March 29 | Performance |
| Saturday | March 30 | Performance |
| Sunday | March 31 | Matinee |
| Thursday | April 4 | Performance |
| Friday | April 5 | Performance |
| Saturday | April 6 | Closing Night |
For more information on this show,
or for other Live Entertainment events at the
Brumder Mansion, call Tom Marks at (414) 388-9104
---
MEG IS A PROUD MEMBER OF MTA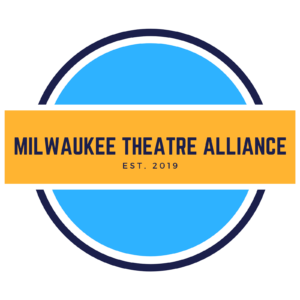 Sign up now to receive
your early notification of future
Milwaukee Entertainment Group events