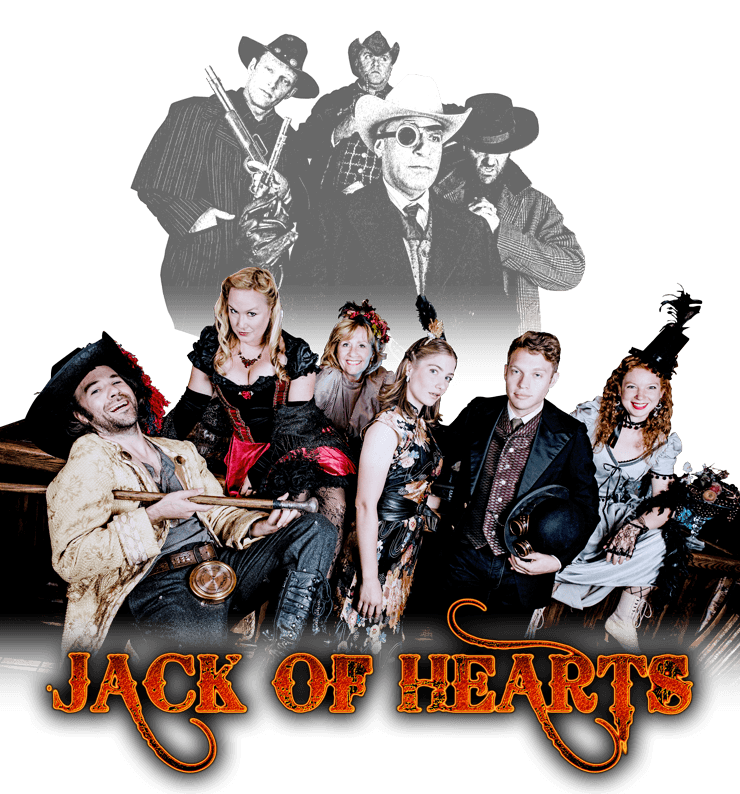 – Past Show
Locally archived
Shepherd Express review here | Journal Sentinel review here
A Live Steampunk Western Play — Written and Directed by JJ Gatesman
Jack of Hearts is a revenge play set in a steampunk world of the wastes, a futuristic dystopia that emulates the old west. The action centers around the Heart's Club, a brothel/saloon, and its denizens who find themselves caught up in a conflict between the mace gang, the capital, and the owner, Jack Heart. Themes of love, loyalty, humanity, and truth are tested, broken, and rebuilt.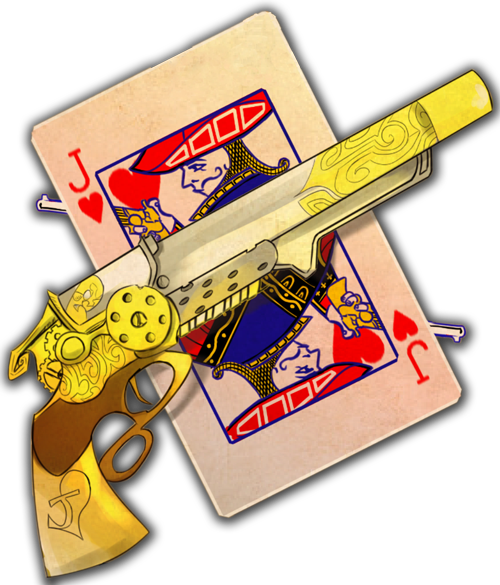 Illustration © and courtesy Domenic Serena
Josh Krause as Jack Heart
April Paul as Page
Josh Perkins as Yorick/Trigger
Kim Emer as Anya
Kara Penrose as Panda
Steve Alonte as Duke
Brittany Curran as Dodo
Liz Whitford as Wallace/Leopard/Elizabeth
George Sheppard as Doc/Baton
Jason Nykiel as Jasper/Diamant
All cast photos © and courtesy Ross Zentner.

Except April Paul mini-bio photo, which is © and courtesy Valerie Lighthart.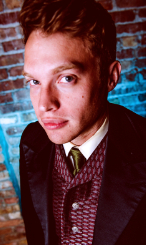 Josh Krause most recently appeared in Julius Caesar (as Caius Ligarius and Octavius). His other regional credits include Visiting Mr. Green (Ross) and Jeeves at Sea (Crumpet); Goodnight Moon and A Christmas Carol (Fred); and Much Ado About Nothing (Verges) and The Matchmaker (Ambrose). Josh received his Master of Fine Arts in Acting from Indiana University.
Josh Krause
as Jack Heart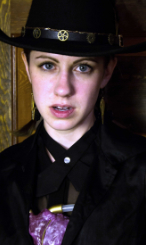 April is delighted to return to the Milwaukee Entertainment Group for another original piece! Her most recent credits include Rose (The Flick), Dee (Return of the Heir), and Izzy (The Scene You Need). April holds a BA in Acting from UW Milwaukee, and has worked with companies such as Milwaukee Chamber Theatre, Soulstice Theatre, Bunny Gumbo, and Comedy Sportz.
April Paul
as Page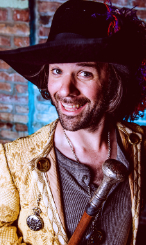 Josh has acted and directed in Milwaukee for over 15 years. Some of his favorite recent roles have been the Doctor in A Woman's Place at Cooperative Performance Milwaukee; Greta in Bent at The World's Stage; and Winston Smith in George Orwell's 1984. He's taken part in over two dozen Soulstice Theatre productions and co-founded Angry Young Men Ltd.
Josh Perkins
as Yorick/Trigger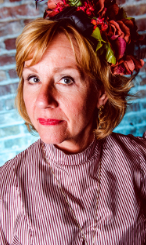 Kim lives in Kenosha and works for an orthodontist by day and plays with her community theater, The Rhode Center for the Arts, by night. Some of her favorite roles are M'Lynn in Steel Magnolias, and Alexa in As Bees in Honey Drown. She has performed in Milwaukee with Cream City Theater and in Coulrophobia, an independent film directed by Vincent Buckley.
Kim Emer
as Anya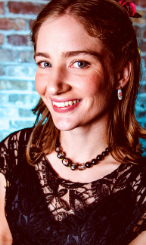 Most recently Kara was seen in Lobotomy the Musical at the Alchemist Theatre and as Cecily in The Importance of Being Earnest with SummerStage of Delafield. In addition to performing, Kara is also a fight director. As a certified stage combatant and instructor with Dueling Arts International she teaches and choreographs theatrical violence for the stage.
Kara Penrose
as Panda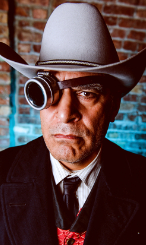 One might say that Steven is a rookie to acting, having first taken the stage at the young age of 57. After several auditions Steve was lucky enough to land a part in the One Act Festival with Cooperative Performance Milwaukee at In Tandem Theatre. In addition he has acted in photoshoots for Park Bank, a music video, two short films, one full feature and played an extra on Chicago Fire.
Steve Alonte
as Duke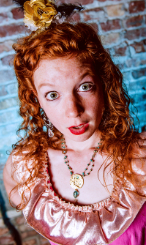 Brittany holds a BFA in Acting and a minor in Creative Writing from the UWM. She is a company member at Kohl's Wild Theater and a director, instructor, and Educational Outreach Coordinator with Milwaukee Youth Theatre. She has worked with Pink Banana, Renaissance Theaterworks, The World's Stage, First Stage, Milwaukee Rep, and Bard and Bourbon.
Brittany Curran
as Dodo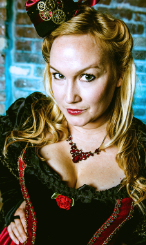 In 2015 Liz was in "Rocky Horror Picture Show" and "The King of Pop" at the Alchemist. In 2014, she portrayed Lynn in "Suicide Sleep" and Dolly in "For Purely Elfish Reasons" both at the Alchemist. Recent film projects include four years in Milwaukee's 48hr Film Project, "Pantry Todd" and the "Spade County Massacre."
Liz Whitford as
Wallace/Leopard/Elizabeth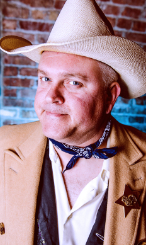 Some of George's favorite past roles include; Petkoff (Arms and the Man); Tesman (Hedda); Freddie (Noises Off); Oats (Terra Nova); Austin (True West); and Boris Renfield in Theatre X Late Night's Dracula the Musical. Education included time as a member of the UWM BFA Acting Program, and the Actor Intern Company at the Milwaukee Repertory Theatre.
George Sheppard
as Doc/Baton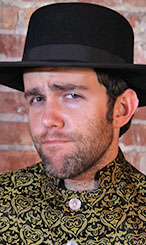 Jason is very excited to be working with Milwaukee Entertainment Group for the first time. This is his first show in Milwaukee after recently moving here from Chicago. He has worked with many Chicago theatre companies including: the Public House, Quest Ensemble, Project 891, and Navy Pier. Jason graduated from the CCPA at Roosevelt University with a BFA in theatre.
Jason Nykiel
as Jasper/Diamont
Performance Schedule
Opening Night, Closing Night, Performances:
Doors Open – 7pm | Curtain – 7:30pm
Matinee:
Doors Open – 1:30pm | Curtain – 2pm
| | | |
| --- | --- | --- |
| Day | Date | Notes |
| Friday | October 7 | Opening Night |
| Saturday | October 8 | Performance |
| Friday | October 14 | Matinee |
| Saturday | October 15 | Performance |
| Monday | October 17 | PWYC Performance |
| Thursday | October 20 | Performance |
| Friday | October 21 | Performance |
| Saturday | October 22 | SOLD OUT |
| Sunday | October 23 | Matinee |
| Friday | October 28 | Performance |
| Saturday | October 29 | Performance |
| Monday | October 31 | Closing Night |
For more information on this show,
or for other Live Entertainment events at the
Brumder Mansion, call Tom Marks at (414) 388-9104
---
MEG IS A PROUD MEMBER OF MTA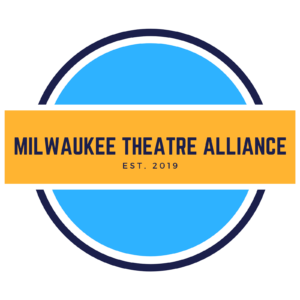 Sign up now to receive
your early notification of future
Milwaukee Entertainment Group events