"Hatter Madness is a fun synthesis between sharp dialogue, endearing acting and lifelong readers' familiarity and love with and for the (Wonderland) characters."
— Russ Bickerstaff / ExpressMilwaukee.com
Read the complete review at ExpressMilwaukee.com
Local Archive if the link above doesn't work
Hatter Madness – Past Show
— Mike Fischer / Journal Sentinel Online
Written and Directed by Amanda J. Hull
HATTER MADNESS imagines Wonderland after Alice has left, combining characters and ideas from an assortment of retellings into this original theatrical production. We discover a darker, Queen-free Wonderland, this time investigating the mysterious disappearance of the Cheshire Cat. Plus there's the escalating madness of a certain Hatter…
You're invited to a Tea Party, hosted by the Dormouse of course, with all of the chaos and tomfoolery that can only be served in Wonderland. Betrayal, confusion, and an unexpected Trial await. Join us for HATTER MADNESS!
Evan James Koepnick as Hatta
Amanda Eaton Sinko as Dory
Cory Jefferson Hagen as W. Rabbit
Megan Kaminsky as Alice
Michael Keiley as King
Michelle Paura as Queen
All cast photos © and courtesy Ross Zentner.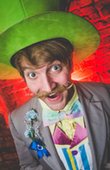 Evan James Koepnick as Hatta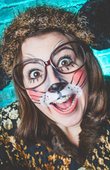 Amanda Eaton Sinko as Dory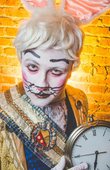 Cory Jefferson Hagen as W. Rabbit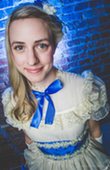 Megan Kaminsky
as Alice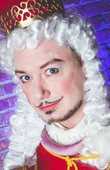 Michael Keiley
as The King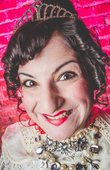 Michelle Paura
as The Queen
Performance Schedule
Opening Night, Closing Night, Performances:
Doors Open – 7pm | Curtain – 7:30pm
Matinee:
Doors Open – 1:30pm | Curtain – 2pm
| | | |
| --- | --- | --- |
| Day | Date | Notes |
| Thursday | February 12 | Opening Night |
| Friday | February 13 | Performance |
| Saturday | February 14 | Performance |
| Thursday | February 19 | Performance |
| Saturday 21 | February | Performance |
| Sunday 22 | February | Performance |
| Friday | February 27 | Performance |
| Saturday | February 28 | Closing Night |
| Saturday | February 28 | Performance |
| Sunday | March 1 | Closing Night |

For more information on this show,
or for other Live Entertainment events at the
Brumder Mansion, call Tom Marks at (414) 388-9104
---
MEG IS A PROUD MEMBER OF MTA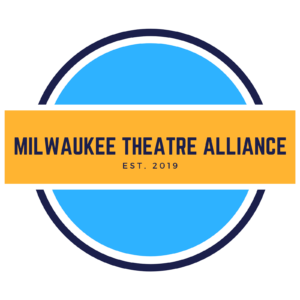 Sign up now to receive
your early notification of future
Milwaukee Entertainment Group events