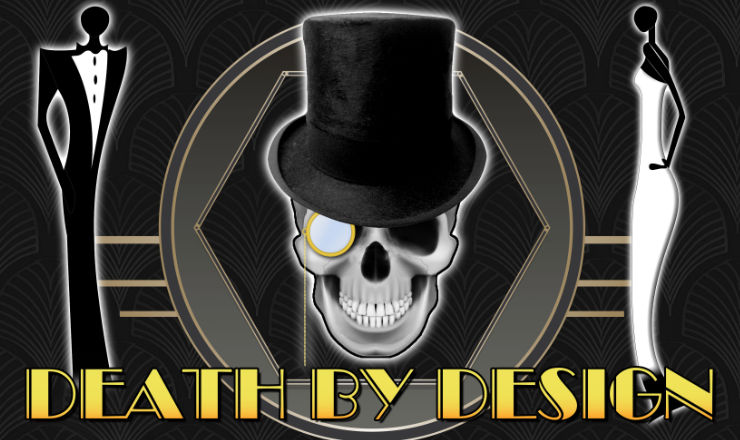 Death By Design – Past Show
— Julie McHale / Milwaukee County Post
Written by Rob Urbinati | Directed by Zack Woods
Stage Managed by Dustin Mattson
Sophisticated English playwright Edward Bennett and his glamorous actress/wife Sorel have retreated to their country estate, after their latest play is panned by the London critics. Amid much licking of wounds and hurling of barbed bon mots comes a steady stream of guests, some invited, some not. One of them, shockingly, lies lifeless on a sofa — and not by accident. To make matters worse, someone has snipped the phone lines.
So who's the killer? There are suspects aplenty in this plush corner of English countryside: The bohemian artist. The stiff conservative politician. The fiery radical. The maid. The chauffeur. One of the Bennetts themselves. Or could it be the shy, sweet visitor?
Melody Lopac as Bridgit
Cory Jefferson Hagen as Jack
Zach Thomas Woods as Edward Bennett
Alicia Rice as Sorel Bennett
Marcus Beyer as Walter Pearce
Hugh Blewett as Eric
Keighley Sadler as Victoria Van Roth
Liz Faraglia as Alice
All cast photos © and courtesy Ross Zentner.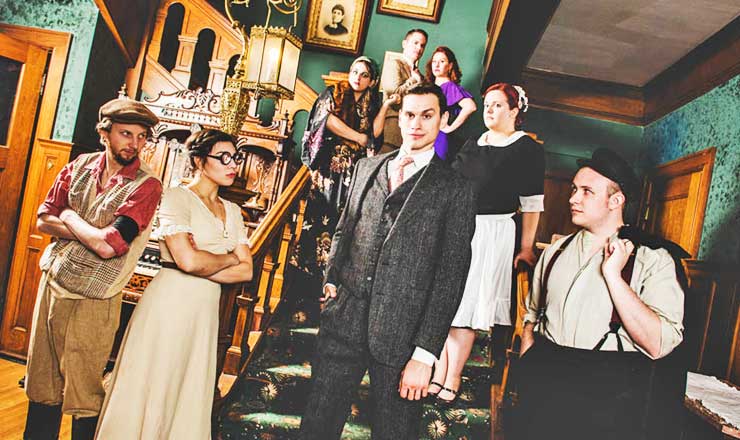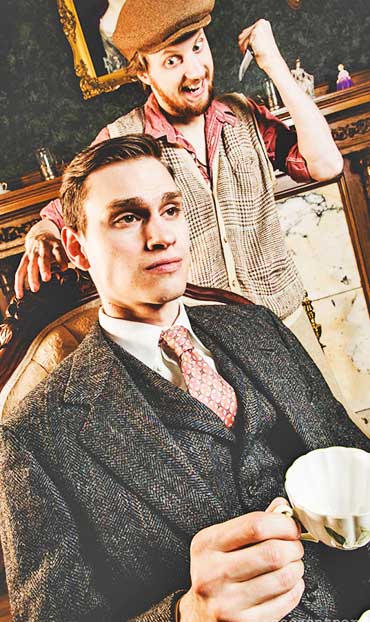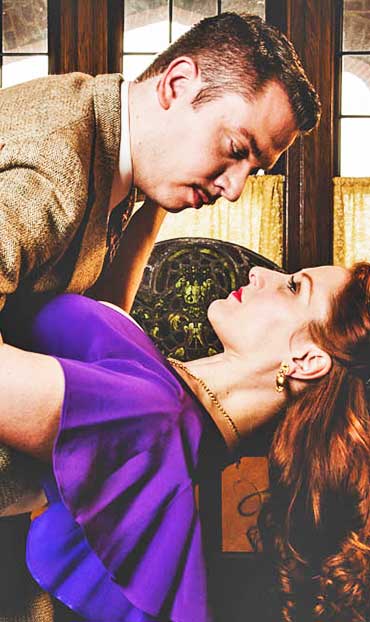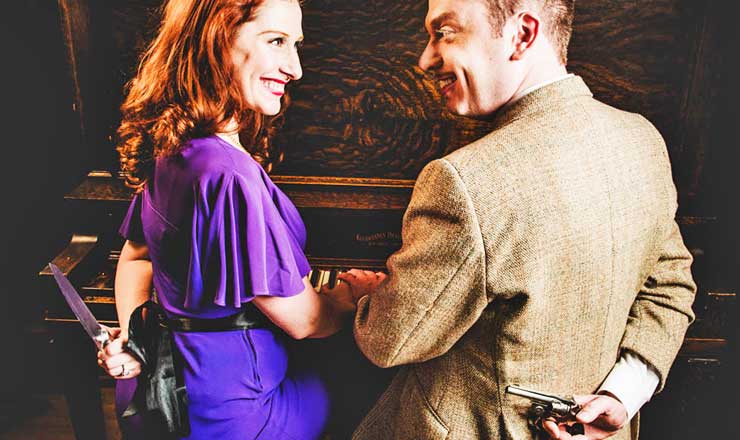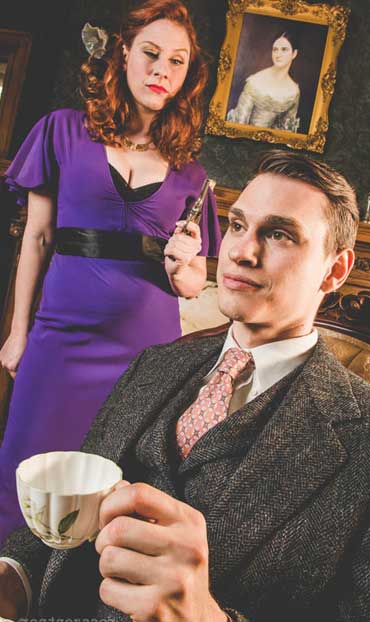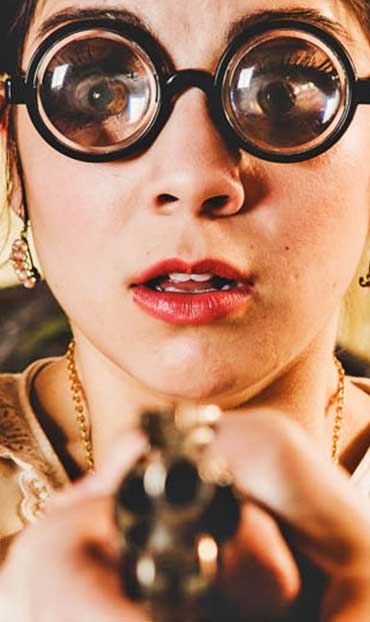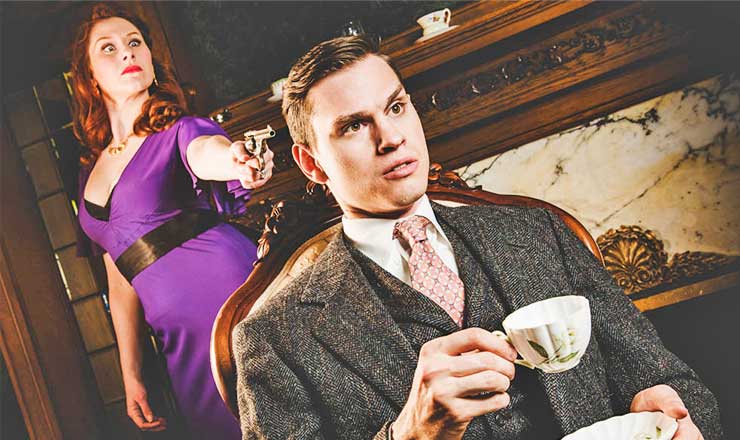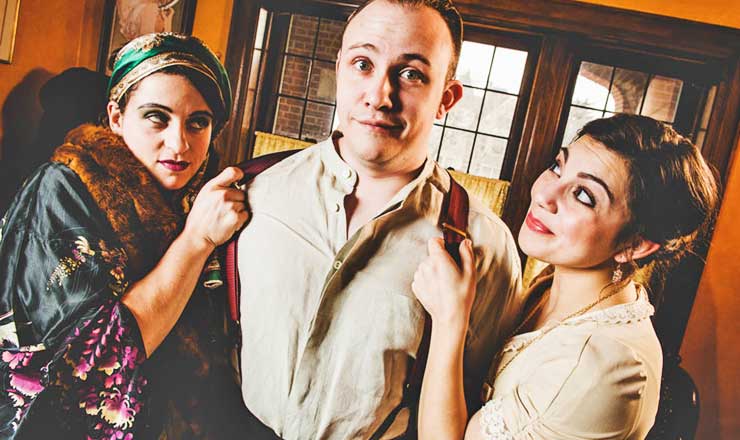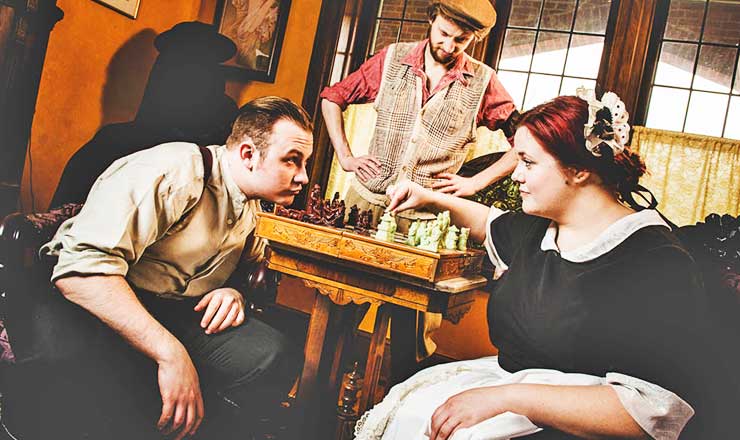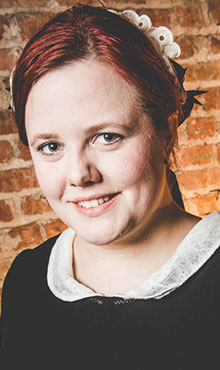 Melody is very happy to be performing for the first time at the Brumder Mansion in Death by Design. Most recently, she appeared as Carnelle in the Musical Masquer's production of The Miss Firecracker Contest, also under the direction of Zach Thomas Woods. Other favorite roles include Mrs. Sowerberry in Oliver and Peter Cornelius Hoof in National Geographic's Real Pirates. Melody is a graduate of Peck School of the Arts with a BA in Theatre Studies. She sends love to any family or friends who come to see the show.
Melody Lopac
as Bridgit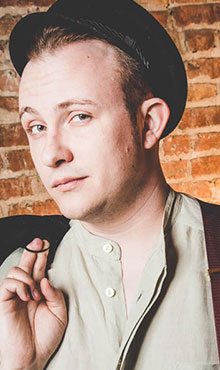 Cory recently graduated from the University of Wisconsin- Whitewater with a Bachelor of Fine Arts in theatre performance. His recent stage credits include Romeo in Romeo & Juliet, Dracula in Dracula, Will Scarlet in A Lady In Waiting, Barnaby Tweed in Murdertowne Abbey, Jack Frost in Upon a Midnight Clear: a Tale of Jack Frost, and W. Rabbit in Hatter Madness. Mr. Hagen also interned with Door Shakespeare where he played ensemble and ukulele in As You Like It and understudied The Complete Works of William Shakespeare (Abridged).
Cory Jefferson Hagen
as Jack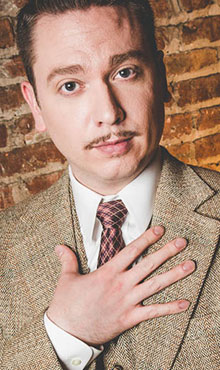 Eric is an interdisciplinary artist, performer and director from Waukesha, WI. He received his BA in Theatre Direction from Macalester College in St. Paul, MN, and has performed internationally with companies across the US, Canada and Italy. He was most recently the assistant director with Waukesha West High School's production of Phantom of the Opera. He will be relocating to northern California in the fall of 2015 to attend the Dell'Arte International School of Physical Theatre. This is his Milwaukee theatrical debut, and he is thrilled to be a part of Death by Design.
Edward William Jones
as Edward Bennett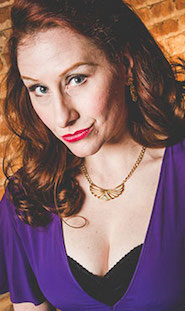 Ali studied theater at the University of the Arts in Philadelphia, PA before going on to study, teach, and compete in ballroom and Latin dance with Fred Astaire Dance Studio. Since her return to the stage she has been seen in Off the Wall Theatre's Giovanni, Skylight's In the Heights, Sunset Playhouse's Red, Hot, and Cole, and Soulstice Theatre's Macbeth as Lady Macbeth. This past summer Alicia was delighted to have the chance to combine her two passions, theatre and dance, when she choreographed Theatre on Main's production of Evita.
Alicia Rice
as Sorel Bennett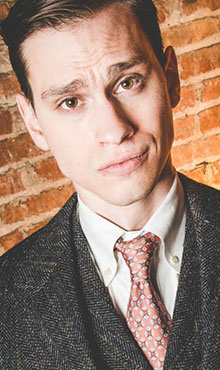 Marcus is excited to be joining this cast for his Brumder Mansion debut. Marcus is a graduate of Cardinal Stritch University, and is a current company member of Kohl's Wild Theater. He has appeared previously in original musicals The Burden of Being and Spread the Nudes, and often appears in various Milwaukee comedy events. Marcus would like to express his gratitude to the cast and crew of this production, and of course his wonderfully supportive girlfriend and family. Keep an eye out for his next performance and enjoy the show!
Marcus Beyer
as Walter Pearce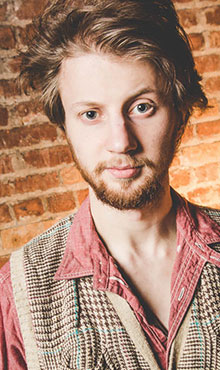 Hugh has performed in community and semi-professional theatre in Milwaukee, and has worked on many films in the Milwaukee area including the feature horror film The Homecoming Queen. He has recently graduated from Cardinal Stritch University. Some of his favorite roles include Professor Moriarty, Much the Miller's Son, and Rumpelstiltskin. Hugh has just started his own film company, Lost Star Films, LLC and is starring in a web series whose working title is Lucky Shot.
Hugh Blewett
as Eric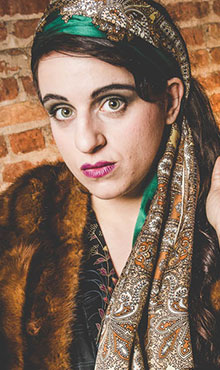 Keighley is delighted to be playing Victoria, and is thrilled to be in her first show at the Brumder Mansion. She has most recently appeared onstage as Popeye in The Miss Firecracker Contest, and this past summer in Evita. Keighley is happy to be sharing the stage with such a talented group of people, and under the direction of such a wonderful director. Enjoy the show; Art is nigh!
Keighley Sadler
as Victoria Van Roth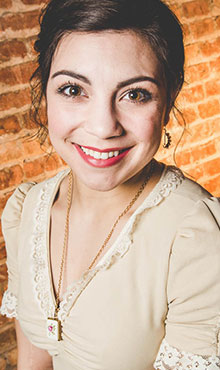 Liz is a 2013 graduate of UW-Milwaukee's B.F.A Theatre, B.F.A Dance, and Honors Programs. She is a teaching artist with First Stage, and a resident performer with Kohl's Wild Theatre. Recently, Liz starred in the short film The Harpist, which was accepted into the Milwaukee Film Festival, Driftless, and Beloit Film festivals. You may have seen her as a dancer in Skylight Music Theatre's productions of Fidelio and Cinderella (La Cenerentola). Performances with other theatres include Optimist Theatre (The Winter's Tale) World Stage Theatre (The Behanding in Spokane as Marilyn), and such past UWM productions as King Lear (Reagan).
Liz Faraglia
as Alice
Performance Schedule
Opening Night, Closing Night, Performances:
Doors Open – 7pm | Curtain – 7:30pm
Matinee:
Doors Open – 1:30pm | Curtain – 2pm
| | | |
| --- | --- | --- |
| Day | Date | Notes |
| Friday | March 20 | Opening Night |
| Saturday | March 21 | Performance |
| Thursday | March 26 | Performance |
| Friday | March 27 | Performance |
| Saturday | March 28 | Performance |
| Sunday | March 29 | Performance |
| Thursday | April 9 | Performance |
| Friday | April 10 | Closing Night |
| Saturday | April 11 | Closing Night |
For more information on this show,
or for other Live Entertainment events at the
Brumder Mansion, call Tom Marks at (414) 388-9104
---
MEG IS A PROUD MEMBER OF MTA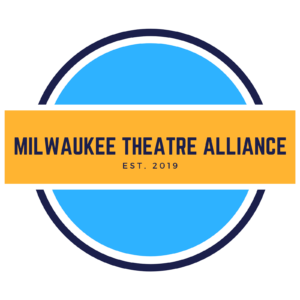 Sign up now to receive
your early notification of future
Milwaukee Entertainment Group events