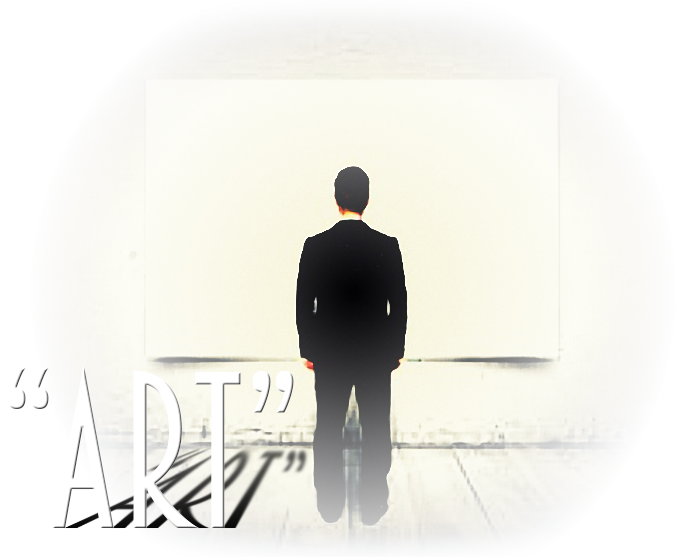 – Past Show
— Russ Bickerstaff / Shepherd Express
Written by Yasmina Reza • Translated by Christopher Hampton • Directed by Lindsey Erin
This dark comedy raises questions about art and friendship and concerns and the varying opinions of long-time friends, Serge, Marc, and Yvan. One of the men, indulging his penchant for modern art, buys a large, expensive, completely white painting. The reactions of his friends to his purchase creates tension in their friendship. For one friend, Serge's purchase of the painting is a cruel joke.
Assistant Director: Caitlin Clark
Mark Neufang as Serge
Chris Goode as Yvan
Randall Anderson as Marc
All cast photos © and courtesy Tom Carr.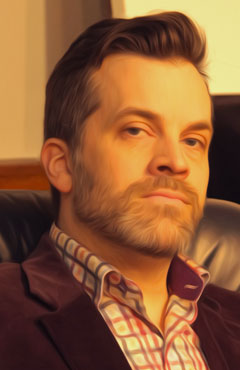 Making his MEG debut in 'Art', Mark has been involved with several theatrical productions throughout the greater Milwaukee area for over 15 years. Favorite roles include Ned Weeks in The Normal Heart, Charles Condomine in Blithe Spirit, Felix Ungar in The Odd Couple, and Malvolio in Twelfth Night — and he directed productions of Crimes of the Heart and Stop Kiss. This summer, he will be playing the role of Garry Essendine in SummerStage of Delafield's production of Present Laughter. He also bakes for his own business, Neufangled Desserts, when not onstage. Special thanks to his family and friends for their continued support, and always — love to Jake.
Mark Neufang
as Serge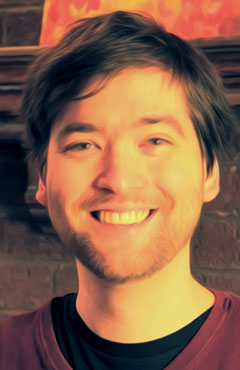 Chris is thrilled and humbled to be performing in one of his favorite plays with two fantastic actors. This is his second performance with Milwaukee Entertainment Group, following 2016's Twas The Night Before Christmas. Thanks to Lindsey, Caitlin and also Amanda, who is always amazing. Even more thanks to family and friends, and all the love in the world to Therese. Enjoy the show!
"The most beautiful things in the world cannot be seen or touched, they are felt with the heart"
— Antoine de Saint-Exupéry, The Little Prince
Chris Goode
as Yvan
'Art' is a welcome return to the Milwaukee Entertainment Group for Randall. Returning audiences may recognize him from his work in 2014's Dial M For Murder (Tony). A founding member of Wisconsin Hybrid Theatre, he has been performing in the midwest for over twenty-five years. Randall's credits in the Milwaukee area include Rope (Rupert), Noises Off (Lloyd), 12 Angry Men (Juror 8), and Hamlet (Claudius). He can sometimes be heard the first Sunday of the month as part of WMSE's Frontier Radio Theatre. Randall can next be seen in an encore of his one man show The Bartender at the Alchemist Theatre.
Randall Anderson
as Marc
Performance Schedule
Opening Night, Closing Night, Performances:
Doors Open – 7pm | Curtain – 7:30pm
Matinee:
Doors Open – 1:30pm | Curtain – 2pm
| | | |
| --- | --- | --- |
| Day | Date | Notes |
| Friday | May 5 | Opening Night |
| Saturday | May 6 | Performance |
| Friday | May 12 | Performance |
| Saturday | May 13 | Performance |
| Sunday | May 14 | Matinee |
| Thursday | May 18 | Performance |
| Friday | May 19 | Performance |
| Saturday | May 20 | Closing Night |
For more information on this show,
or for other Live Entertainment events at the
Brumder Mansion, call Tom Marks at (414) 388-9104
---
MEG IS A PROUD MEMBER OF MTA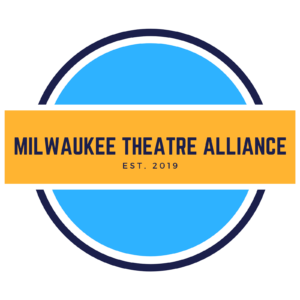 Sign up now to receive
your early notification of future
Milwaukee Entertainment Group events