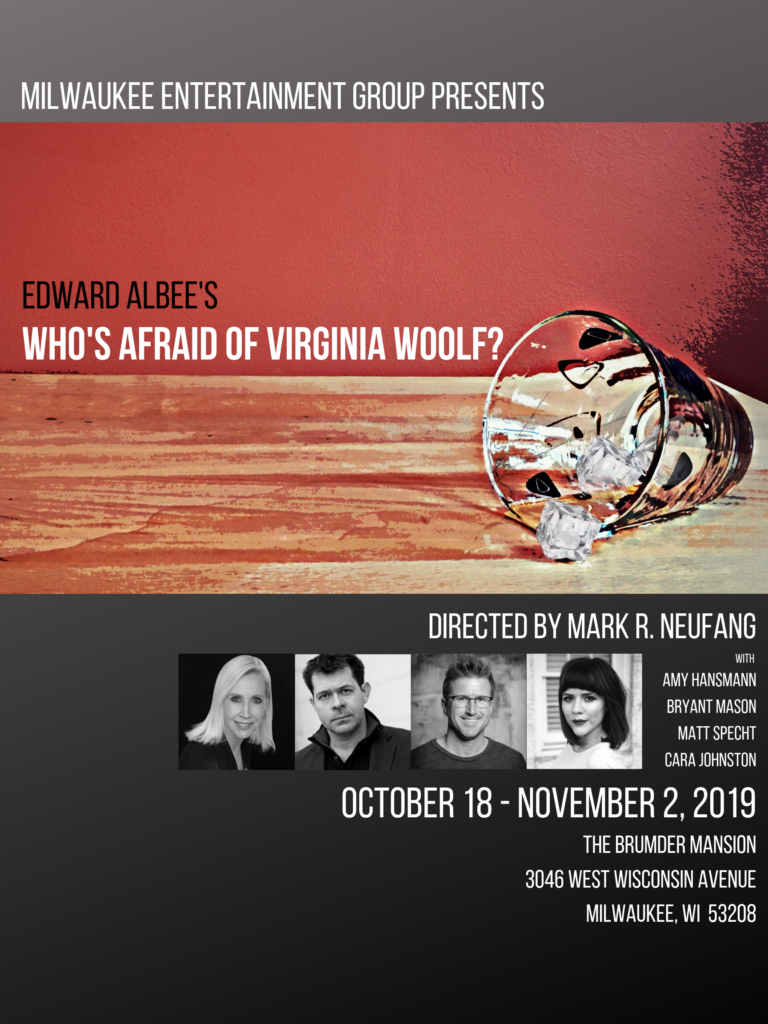 Who's Afraid Of Virginia Woolf?
by Edward Albee
Directed by Mark Neufang

History professor George and his boozy wife, Martha, return late one Saturday night from a cocktail party at the home of the college president, Martha's father. Martha announces that she invited another couple, newly appointed instructor Nick and his timid wife, Honey, over for a nightcap. When the younger couple arrives, the night erupts into a no-holds-barred torrent of marital angst and verbal tirades.
CAST:
Amy Hansmann as Martha
Bryant Mason as George
Matt Specht as Nick
Cara Johnston as Honey
Performance Schedule
Opening Night, Closing Night, Performances:
Doors Open – 7pm | Curtain – 7:30pm
Matinee:
Doors Open – 1:30pm | Curtain – 2pm
| | | |
| --- | --- | --- |
| Day | Date | Notes |
| Friday | October 18 | Opening Night |
| Saturday | October 19 | Performance |
| Friday | October 25 | Performance |
| Saturday | October 26 | Performance |
| Sunday | October 27 | Matinee |
| Thursday | October 31 | Performance |
| Friday | November 1 | Performance |
| Saturday | November 2 | Performance |
For more information on this show,
or for other Live Entertainment events at the
Brumder Mansion, call Tom Marks at (414) 388-9104
Sign up now to receive
your early notification of future
Milwaukee Entertainment Group events