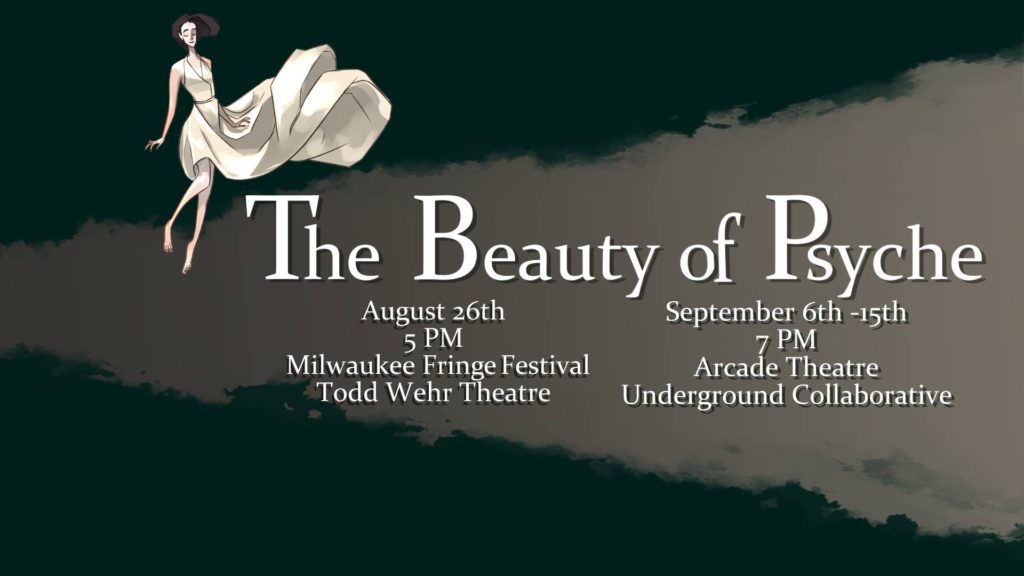 THE BEAUTY OF PSYCHE
By JJ Gatesman
The next exciting original play written and directed by JJ Gatesman, The Beauty of Psyche, is a modern re-imagining of the myth of Cupid's abduction of Psyche. A cast of 4 actors will use puppetry, stage illusions, and physicality to tell this epic story. Features original music by Amanda J Hull and Cole Heinrich.
The first act of the play will be presented at the Milwaukee Fringe Festival on August 26th at 5:00pm
mkefringe.com
The Arcade theater in the Underground Collaborative at Grand Avenue Mall will host the show on weekends September 6th through 15th at 7:00pm
ucmke.com
CAST OF CHARACTERS
Actor 1- Abigail Stein
Psyche: A fiery young woman of intelligence and drive.
Actor 2- Josh Decker
Boy/Eros: A god who finds himself feeling human emotions and rebelling from the norms of his people
Actor 3- Kellie Wambold
Pan: A puckish god of the earth who helps Psyche find her way
Mother: Psyche's mother, a worried, superstitious woman manipulated by the gods
Actor 4- Audrey Thompson-Wallace
Rose- The goddess of Love, she views Psyche as a rival to her beauty, extremely jealous, loves her son Eros desperately
Unseen-God of the underworld, a former mortal turned god against her will.
For more information on this show,
or for other Live Entertainment events at the
Brumder Mansion, call Tom Marks at (414) 388-9104
Sign up now to receive
your early notification of future
Milwaukee Entertainment Group events