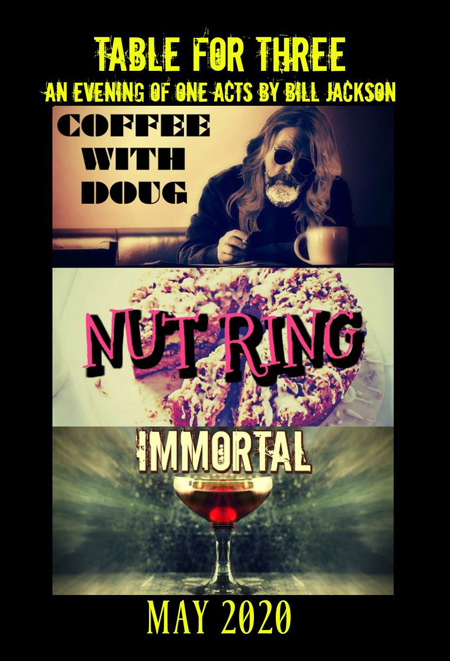 Table For Three
An evening of three One Acts by Bill Jackson
COFFEE WITH DOUG Directed by Bill Jackson
December 8, 2018
Doug stops in a quiet, comfy little coffee house to have a big, stiff brew spiked with a shot, and proofread some poetry. A compulsive, nervous kinda guy named Buddy enters and after staring for a while, believes he has found Jim Morrison. Doug denies it; Buddy insists. Eventually, Buddy is so sure, despite the fact that Morrison died in Paris in 1971, that he goes off the rails as he did when he was a young Doors fanatic. In sympathy, confession, or just wanting the guy off off his back, Doug tells him why Morrison died.
NUT RING Director TBA
Lyla and her daughters, Katlin and Emma who get along like a mongoose and a cobra, are having tea when Lyla's sister, Laura, arrives with a cherry walnut coffeeIn this transcendently powerful adaptation by Wendy Kesselman, Anne Frank emerges from history a living, lyrical, intensely gifted young girl, who confronts her rapidly changing life and the increasing horror of her time with astonishing honesty, wit, and determination. An impassioned drama about the lives of eight people hiding from the Nazis in a concealed storage attic, THE DIARY OF ANNE FRANK captures the claustrophobic realities of their daily existence—their fear, their hope, their laughter, their grief. Each day of these two dark years, Anne's voice shines through: "When I write I shake off all my cares. But I want to achieve more than that. I want to be useful and bring enjoyment to all people, even those I've never met. I want to go on living even after my death!" This is a new adaptation for a new generation. ring for Lyla's husband who is ill. The conversation turns to men and sex. They discuss it as they proceed to devour the cake.
IMMORTAL
Ash is making Italian at home when his fiancé comes in from work and accuses him of keeping a critical secret: He is immortal. At first, Ash thinks she's having him on. As they progress, it appears that Cassie is serious. He extracts the origin of this accusation from her but he still doesn't believe she could possibly be serious. In genuine distress, she cries. He'll do or say anything to make her stop. So he tells her about the curse of immortality. If it's true.
For more information on this show,
or for other Live Entertainment events at the
Brumder Mansion, call Tom Marks at (414) 388-9104
Sign up now to receive
your early notification of future
Milwaukee Entertainment Group events