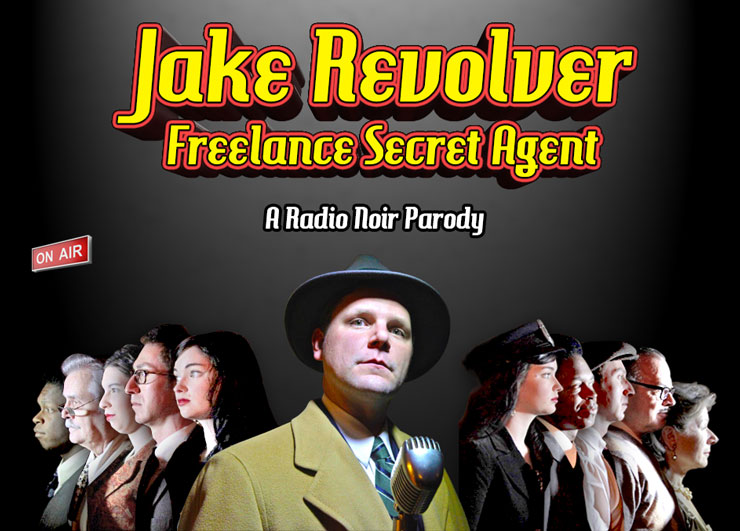 Jake Revolver: Freelance Secret Agent – Past Show
— Julie McHale / Milwaukee County Post
Read the full review at the Milwaukee County Post – page 15 | Read the Full Review (locally archived)
Written by Matthew Konkel | Directed by Tom Marks
Wherever there's a right needing to be wronged, he'll be there. Whenever there's food needing to be eaten, he'll have a fork. And whatever you can do, he can do better. Some say he's not human. Others say he's just a man. Only a small percentage say he's a woman. But no matter what he is, his name and title remain the same. Into the light of the dark black night comes… Jake Revolver, Freelance Secret Agent!
Read the SHEPHERD EXPRESS Review!
Phil Stepanski as Jake Revolver
Rachel Zembrowski as Emmy Award
Kristin Johnson as Angel Fatale / Lt. Ann Danderson
Sherrick Robinson as Narrator / Dashiell Roll
Mohammad EIBsat as Windy / Raymond Rattle
Leslie Fitzwater as Trudy
James Iaquinta as Wallace
Tom Marks as Mr. Cray
All photos © and courtesy Tom Carr.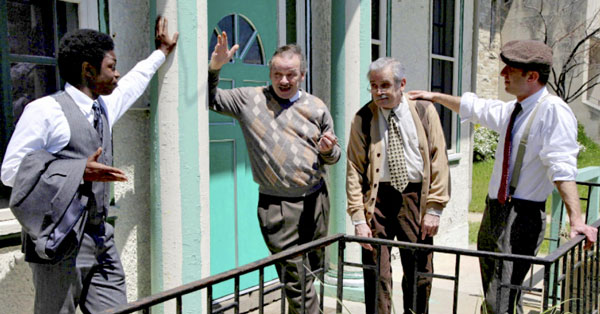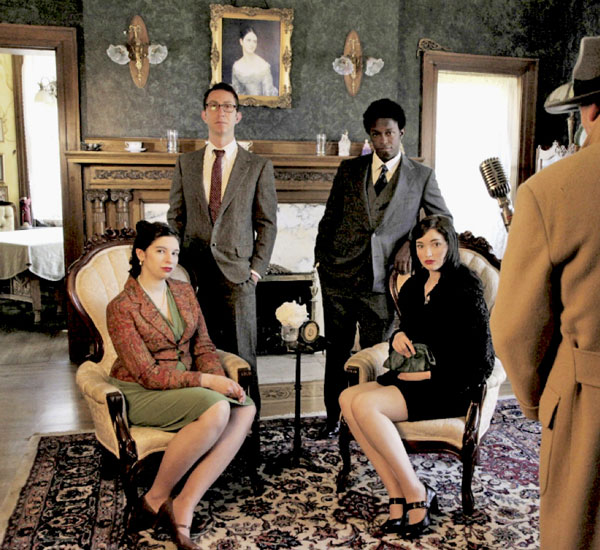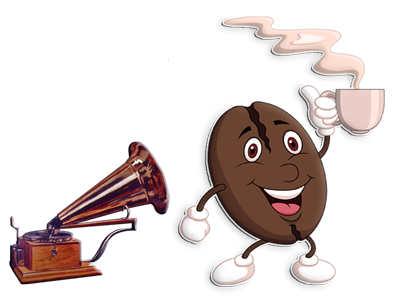 Tap your toez to the Jitterz Jingle!
Short Version
Long Version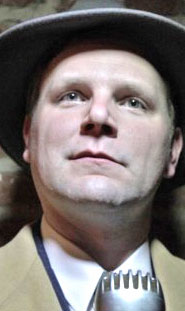 Phil is thrilled to be making his debut with MEG. And he loved the experience so much that he will be back for more this fall, where you can see him as Ryan in the world premiere of "aMUSEd" on this very same stage! He has worked with many different theatre groups throughout SE Wisconsin. Earlier this year he portrayed Billy Bibbit in "One Flew Over the Cuckoo's Nest" and Axel Hammond in "The Nerd" (both with Sunset Playhouse), and most recently was seen as Feuilly in "Les Miserables" at Waukesha Civic Theatre. Later this summer he will be playing the role of Hal in "Picnic" at SummerStage of Delafield. Love and Hugs to Sarah, Nathan, and Ryan. Enjoy the show!
Phil Stepanski
as Jake Revolver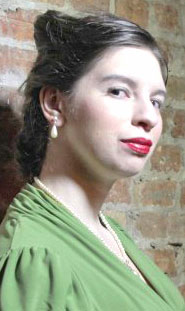 Rachel is excited to be working with the Milwaukee Entertainment Group at the Brumder for the first time on this brand new show! Rachel is a theatre education major working on her second degree at UWM. Since she won't be able to do much theatre work outside of fieldwork and student teaching this next year, she is very excited to be spending her summer with such amazing theatre professionals working on such a fun show in such a wonderful space! Thanks to her wonderful cast mates and the production team of MEG for this amazing opportunity and great experience! Come and enjoy "Jake Revolver, Freelance Secret Agent," and tip your waitress! ("It's part of the genre!")
Rachel Zembrowski
as Emmy Award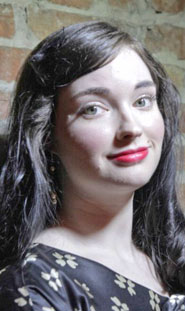 Kristin is a graduate of UW-Milwaukee, where she received her BFA in Acting. She is delighted to be performing in her first production with Milwaukee Entertainment Group. Favorite stage credits include King Lear with UW-Milwaukee, Psycho Beach Party with Theatre Unchained, The Laramie Project with Theatrical Tendencies and Speed the Play with Pink Banana Theatre.
Kristin Johnson as
Angel Fatale/Ann Danderson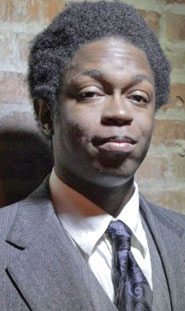 Sherrick is super thrilled to make his Milwaukee Entertainment Group debut! He holds a BFA in Theater Performance from Nebraska Wesleyan University, but he's glad to be back in his home in Milwaukee. Some recent appearances include "Luchadora!" at First Stage, "Six Degrees of Separation," "A Rising Wind," "Rent," and "HAIR". He's also directed, most recently "DUTCHMAN" for World's Stage Theater Company. He is also a member of Kohl's Wild Theater. He thanks his friends and family for their support.
Sherrick Robinson
as Narrator/Dashiell Roll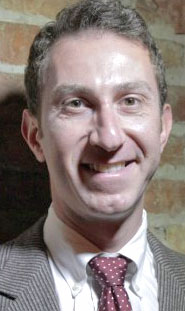 Mohammad is an engineer by day and thespian by night. This is Mohammad's debut with Milwaukee Entertainment Group. Regional credits include "City of Angels", "Prin", "The Petrified Forest", "An Empty Plate in the Cafe du Grand Boeuf", and "Omnium Gatherum" with Windfall Theatre. Mohammad would like to thank Tom for the opportunity to work under his direction and with such a great cast and creative team. He would also like to thank his family, friends, and colleagues for their support. "I am enough of an artist to draw freely upon my imagination. Imagination is more important than knowledge. Knowledge is limited. Imagination encircles the world."
Mohammad ElBsat
as Windy/Raymond Rattle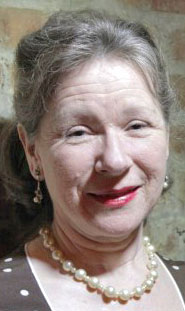 Leslie is thrilled to be in her first performance with Milwaukee Entertainment Group. She has been acting and singing professionally for more than 30 years and has performed with the Milwaukee Symphony, Florentine Opera, Skylight Music Theatre, Theatre Gigante, and In Tandem Theatre. Leslie has had a multi-faceted career spanning opera, theater, music theater, cabaret, and mime, and her roles have been as diverse as Paddington Bear, Edith Piaf, and Carmen. She was last seen in City of Angels at Windfall Theatre. Leslie is an adjunct faculty member at Pius XI High School in the music department.
Leslie Fitzwater
as Trudy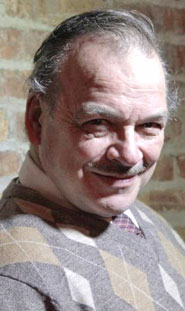 Jim is happy to return to the Brumder stage where he and Lori Minetti have presented "Love Letters", "An Evening with Edgar Allan Poe", and their two actor show " A Dickens of a Christmas Carol" as well as appearing in several murder mysteries, most recently "Murder is a Fine Art."
James Iaquinta
as Wallace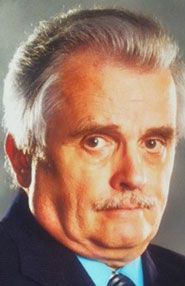 Tom was first 'on-stage' as a 'professional actor' in 1957, and so far he's been able to enjoy (and endure) all that one encounters in an 'actor's life.' He learned to adjust to not always being 'on-stage' by taking on such roles as that of prop master, sound technician, set designer/decorator, stage manager, director, writer and producer. Tom recently returned to performing in musical theatre in Sunset Playhouse's "How To Succeed…" and will soon be seen in Jeff Ircink's "Stan's Addiction".
Tom Marks
as Mr. Cray
Performance Schedule
Opening Night, Closing Night, Performances:
Doors Open – 7pm | Curtain – 7:30pm
Matinee:
Doors Open – 1:30pm | Curtain – 2pm
| | | |
| --- | --- | --- |
| Day | Date | Notes |
| Friday | June 12 | Opening Night |
| Saturday | June 13 | Performance |
| Sunday | June 14 | Matinee |
| Friday | June 19 | Performance |
| Saturday | June 20 | Performance |
| Friday | June 26 | Performance |
| Saturday | June 27 | Closing Night |
For more information on this show,
or for other Live Entertainment events at the
Brumder Mansion, call Tom Marks at (414) 388-9104
Sign up now to receive
your early notification of future
Milwaukee Entertainment Group events