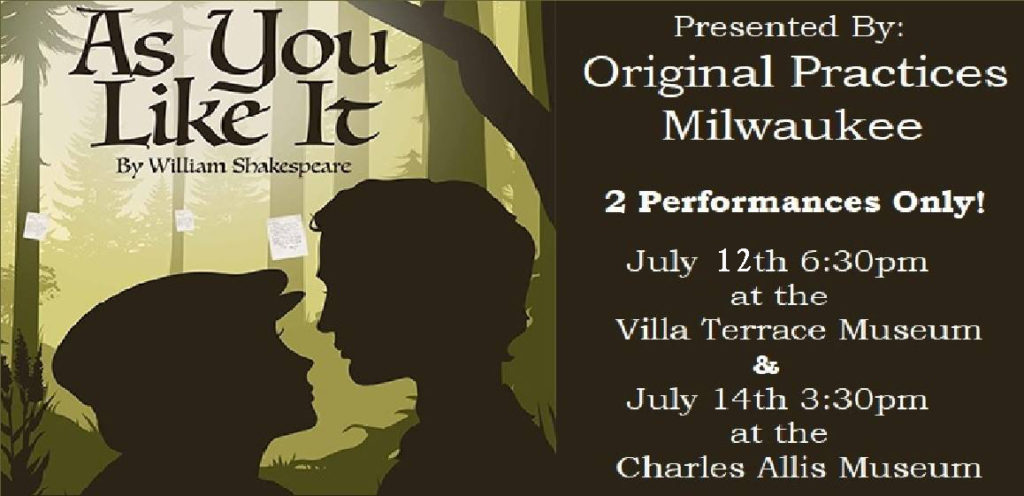 Milwaukee Entertainment Group in support of Original Practices Milwaukee Invites you!
Come enjoy the next exciting production from Original Practices Milwaukee: As You Like It. A raucous comedy involving noble men and women who find freedom by running off to the woods. Mistaken identities, love, loss, and fart jokes abound in this silly good time.
As You Like It will be performed in the first folio style, where the audience becomes a major component to the show. Cheer on your heroes, Boo the villains, laugh at the clown! Come enjoy Shakespeare at it's most accessible at the Charles Allis and Villa Terrace Museums.
Tickets are $10 and are available at the door before the performance.
CAST
Zach Woods
Paige Bourne
Megan Orcholski
Bryant Mason
James Sevens
Jim Donaldson
Performance Schedule
7/12 6:30pm @ Villa Terrace Museum
2220 N Terrace Ave, Milwaukee, WI 53202
7/14 3:30pm @ Charles Allis Museum
1801 N Prospect Ave, Milwaukee, WI 53202
Sign up now to receive
your early notification of future
Milwaukee Entertainment Group events